This is part two of a two part story on Adventure Skydiving as it happens on weekends at Outlaw Air Field. Part one ran on Tuesday, October 13. On Tuesday, Bill Larson wrote:
I have always wanted to jump out of an airplane. It was an item on my bucket list. You know, a list of things to do before you kick the proverbial bucket. So when a chance came to cross one of those items off my list by jumping out of an airplane, and then write about it, I, please pardon the pun, jumped at the opportunity…
Here is the rest of his story:
My first jump
The next weekend I returned to cover Clarksville Online Editor Christine Piesyk's first flight behind the controls of an airplane…something I would have loved to do myself — but I didn't want to steal all of the fun.
When we arrived I spoke again with Chuck of Adventure Skydiving and asked if their offer of a free jump was still open. He assured me it was. As the next flight was already full, I was added to the following flights passenger list, given a heap of paperwork, and told they would call me when it was time to suit up. We made arrangements for Christine to go up and watch me go out of the plane as well.
I went into the airport's restaurant and began filling out the lengthy releases required by their attorneys. When finished, I returned the paperwork to the Adventure Skydiving representative. A few minutes later we proceeded outside to watch the jumpers come down on their colorful canopies «Read the rest of this article»
The Clarksville Department of Electricity celebrated its annual Electric EXPO on October 11 at the CDE office.  Visitors were treated to lunch and exciting activities that included informational booths on CDE Lightband TV and Internet, a high voltage safety demonstration, energy saving exhibits, and an electric safety booth for kids. Here are images from the events of the day: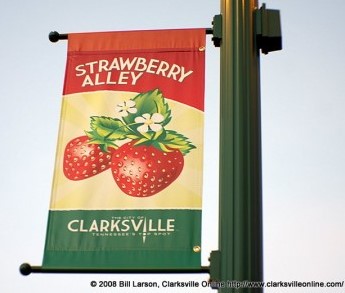 The City of Clarksville will host Jammin' in the Alley, a free concert on Strawberry Alley October 17 from 6 p.m. to 9 p.m.  The Beagles are scheduled to perform and restaurants with entrances on Strawberry Alley will offer outdoor dining. Concert admission is free and the event is open to the public.
Street closures starting at 1 p.m. Friday: Strawberry Alley will be closed from John's Cleaners to 1st Street. 1st Street will be closed to through traffic in front of City Hall.  US Bank's drive through and City Hall parking lots will be accessible.
For more information, please call 645-7444.

The Native Cultural Circle hosted its 11th Annual Inter-Tribal Powwow with solemn ceremony and colorful celebration. Traditional and fancy dancing, Native arts and crafts, food vendors, accomplished Native musicians and a multitude of Native dances provided two days of fellowship, camaraderie and socialization.
Clarksville was treated to two days of Native American cultural heritage displays at the Native Cultural Circle's 11th Annual Inter-Tribal Powwow. The powwow is held on the second weekend of October at the Port Royal campground just up from the Port Royal State Park. Visitors were treated to vendors displaying authentic Native arts and crafts ranging from gemstones, flutes, and leathers, to herbs, clothing and fine art. Music for the Powwow was performed by The White Horse Singers from Alabama, Faron Weeks Drumkeeper and Powwow MC; and the Southern Echo of Crossville, TN, Burt Cox, Sr. Drumkeepe. Traditional dances performed included Ladies Fancy Shawl, Ladies Jingles Dance, Men's Fancy, to name a few.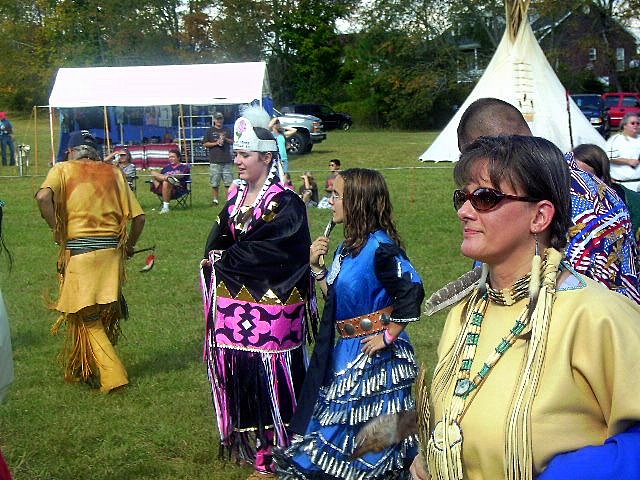 This year's Powwow Head Lady was Loretta Howard. Head Man was Michael Veal, Alternate Head Man was Christopher Cosby. They lead the opening procession during the Traditional and Inter-Tribal dances into the Dance Circle. The dancers regalia- native dress costumes, reflect traditional clothing styles. Many dancers displayed regalia that reflected considerable time and attention to detail and craftsmanship. «Read the rest of this article»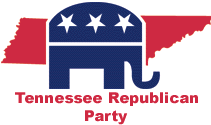 The Montgomery County Republican Party will host a McCain Debate Watch tonight, October 15, at 7:30PM at the GOP Headquarters, 1820 Madison St. (next to TCBY.)  For more information, call 647-4477.
The Austin Peay State University Library will be the scene the College Republicans and the College Democrats on Thursday, October 16 at 7 p.m. The topic will be the Presidential Election.
A debate between the Chairmen of the Republican Party and the  Democratic Party will take place in the ballroom at the Morgan Center at Austin Peay State University on Wednesday, October 29 at 2PM.
The Republican Party will meet at the GOP Headquarters, 1820 Madison (next to TCBY) at 7PM on Tuesday, October 28.  The public is welcome.  Phone 648-0174 for information.
The public is welcome to attend all of these events.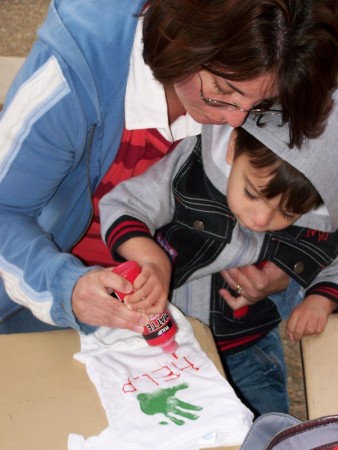 Austin Peay State University will advocate those who have been affected by acts of sexual violence with the Clothesline Project. The event is open to the public and takes place at 8 a.m., Thursday, Oct. 16 at the Morgan University Center Plaza.
The Clothesline Project is an international event that bears witness to the effects of sexual violence in the community. The project gives its participants the opportunity to print T-shirts in honor of men and women who are survivors of sexual and domestic violence. These shirts will be displayed on a clothesline to raise awareness of the impact violence has on the community.
APSU has been hanging the Clothesline Project since 1997. Since its inception, the project has amassed more than 400 T-shirts. For more information, contact Dr. Jill Eichhorn, coordinator of APSU's Women's Studies Program, (931) 221-6314