Mark your calendars for the Grand Opening of the 10th Annual Christmas on the Cumberland at the McGregor Park River Walk scheduled for November 25th at 6:30 p.m.  Voted a Top 20 Event by the Southeast Tourism Society for the upcoming holiday season, this year's event theme is "All I want for Christmas" and will surely bring in more visitors to Clarksville this Holiday Season.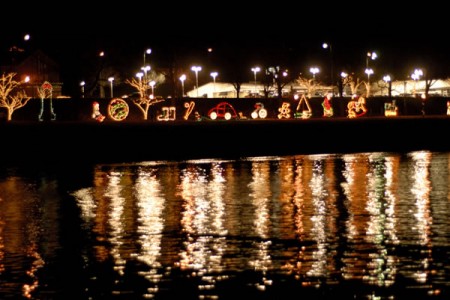 The Opening Ceremony will kick-off the holiday entertainment at 5:30 p.m. with Austin Peay State University Honors Brass Quintet.  Immediately following will be the holiday jazzy sounds of Hypertension.  After the entertainment and much anticipation, Mayor Johnny Piper along with City Council Members will flip the switch that will begin the official holiday season at McGregor Park River Walk.
This year's Christmas on the Cumberland event will be decorated with beautiful Christmas villages along with several other holiday scenes featuring over a million twinkling lights. Children of all ages will enjoy scenes like Santa's Workshop, snow skiing elves, Santa's Express Train, gingerbread boys and girls, skating bears, and two tunnels of amazing dancing lights. A custom-made light display featuring the 101st Airborne Division emblem will once again adorn the pedestrian overpass in honor of our community's men and women serving at Ft. Campbell and around the world.
It will be an exciting time during the Holiday Season for Clarksville.  Don't forget that Santa is scheduled to make several visits to the Christmas on the Cumberland event which is scheduled to be open nightly from November 25th through January 1st.  Event hours are from 5 p.m. to 10 p.m. Sunday through Thursday and 5 p.m. to 11 p.m. Friday and Saturday through January 1st. Admission is free.
For more information on this event and for the entire holiday entertainment schedule at McGregor Park, go to the website at www.christmasonthecumberland.com or call 645-7444 for more information.