Topic: City Council
It's Time to Repeal Clarksville's Good Ol' Boys' Liquor Store Permit Law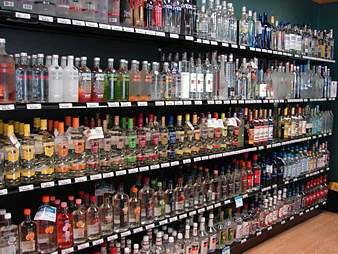 Clarksville, TN – The Tennessean recently reported that certain folks in Clarksville are questioning the merit of having a limit of only a dozen liquor stores that can be allowed to legally operate in Clarksville at any one time.
The out-dated fifty-year-old city ordinance has created an artificial market for "certificates of compliance," not to mention creating in the local liquor market an oligopoly (the market condition that exists when there are few sellers, as a result of which they can greatly influence price and other market factors).
Both the local liquor oligopoly and the market for "certificates of compliance" hurt Clarksville's local economy. «Read the rest of this article»

Clarksville, TN – On August 3rd, 2013 in Columbus,  Ohio,  Chief Al Ansley went before a group of CALEA (Commission on Accreditation for Law Enforcement Agencies) Commissioners for a hearing to determine whether the Clarksville Police Department would be awarded Reaccreditation.
After the hearing, Committee  recommended to the full commission that the Clarksville Police Department receive Advanced Accreditation.  Chief Ansley accepted the award that evening.
«Read the rest of this article»
Clarksville, TN – Ward 11 councilwoman Kaye Jones says she's "frustrated and tired of the citizens of Clarksville not having a voice in their government," and has announced her "We the People of Clarksville, TN" campaign.
Jones says it is NOT a mayoral campaign, but she hasn't "ruled anything out."
In a press release sent to Clarksville Online, Jones stated:
«Read the rest of this article»
Clarksville, TN – The Clarksville Mayor's office canceled the City Council's budget working session yesterday. A majority of the Council Members are unable to attend this afternoon's session.
The Council's final budget working session will now be held on May 31st after the City's Council's monthly Executive Session which begins at 4:30pm. «Read the rest of this article»
Clarksville, TN – Councilwoman Deanna McLaughlin talks about some new ordinaces she is proposing. One is to ban the selling of synthetic drugs packaged as incense, plant food and bath salts in the Clarksville City limits.
Synthetic drugs mimic marijuana, cocaine and ecstasy, and they are having powerful effects on users.
http://www.youtube.com/watch?v=Fgpqut1zwF0
«Read the rest of this article»
The Clarksville City Council met in regular session on Thursday April 8th 2011, topics covered included Gas & Water payment plans, Renewing the CDE Lightband Franchise Agreement, the East-West Corridor, and road construction projects.

Tonight the council met in its usual first of the month regular session. This may have been the smoothest, easiest, and shortest council meeting ever.
There were two issues of note. «Read the rest of this article»
Clarksville, TN – Clarksville Mayor Kim McMillan intends to request the City Council to approve a resolution that will ask the Montgomery County Legislative Delegation to introduce legislation to amend the city's Private Act Charter to incorporate Section 1-208 of the city code restricting the employment by the city of a former mayor or city council member until a designated time period has elapsed. «Read the rest of this article»

The Clarksville City Council will host a meeting this week regarding the proposed East/West Corridor.  The proposed road project would connect Fort Campbell's Gate 1 to Wilma Rudolph Boulevard, stretch across land between Jack Miller Boulevard and the Hampton Plaza shopping center, and run between 101st Airborne Division Parkway and Tiny Town Road.
The City Council, Regional Planning Commission, Street Department and other City representatives will be there to answer questions, address concerns and hear input from home/land owners who could be affected by the proposal.
The meeting will be held Thursday, June 10th, at 6:00pm at the Kleeman Community Center, 166 Cunningham Lane.  This meeting is open to the public.  For additional information, call Christie Hill at (931)-648-6128.
The change that authorized Children at Play signs to be taken down was done without much thought.  Warning signs of any kind. (dangerous curve, hidden driveway, deer crossing, falling rock and many more are there to make up aware that we may have a rock hit your head or may kill a child chasing a ball into the street.  They do make us think that there is a danger there and they do make us aware and they do save lives. Please change this authorization that takes away warning signs for our community.
Linda Shelton
Clarksville, TN 37042
For several years the condition of this Park originally funded through a grant for the low-income area has been overlooked for repairs. The city owns and is responsible for this park, but has failed to upkeep the proper lighting, ball field and pool. The residents haven't had full access to this park in over 4 years.
I have noticed that several other parks in poor condition receiving preventative maintenance measures such as lighting in amounts of of $80,000 to $125,000 have been allocated funds for improvements in this budget. I have supported the Heritage park improvements in my Ward and also some others in other Wards.  I agree that parks are about a good quality of life for our citizens but I am confused as to why we never consider fixing this particular park after several request to do so?
The responses I have received are as follows;
We don't make any money off the pool.
It would not be a wise management decision to reopen the pool in that area.
The usage of this park is low.
Little league teams do not want to play there.
«Read the rest of this article»