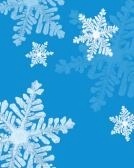 If you think the gray cloudy sky looks like winter and the temperature feels cold enough to snow, you're right.
The National Weather Service has issued a special weather statement calling for "snow showers" and the possibility of a slick dusting of snow overnight tonight and into Monday. The statement reads in part:
"Colder temperatures will change lingering rain showers to snow showers tonight. Snow showers will continue on Monday with temperatures remaining in the 30s. Light accumulations possible over Middle Tennessee. Tonight's low will hover at the freezing mark of 32, with a west wind at 15-20 mph."

Snow showers are "likely" on Monday with winds gusting to 25 mph and the daytime high hovering in the mid-30s.
Weather service forecasters noted that there has not been "measurable snow" in November since 1996, and the average date of the first half inch of snow in this area is January 3.