The Friends of Dunbar Cave group undertook the job of putting an informational kiosk in the Dunbar Cave Visitor Center; a Kiosk that can show short films to Park visitors.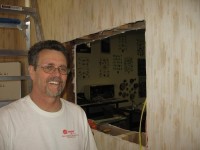 Friends President David Boen led the search for a push button information Kiosk that would be able to play short informative films. Mr. Boen looked at Kiosks in use at APSU, the State Museum at TPAC, a museum in Paducah,  and along with Sally Schiller and Debbie Boen, several parks in the Nashville area. He also researched what would be needed to construct an in-wall Kiosk. He then conferred with David Britton about getting started on the task.
David Boen took a day off work and with David Britton prepared a wall in the Visitor Center lobby for the new Kiosk. They received enthusiastic help from Park Ranger Adam Neblett, and Seasonal Interpreter Michael Fulbright.
The results are wonderful; when visitors enter the lobby the new Kiosk is there to show the newly released Clean Cut Productions film along with a few other informative films.  This is one effort of several underway aimed at preserving and protecting the the beauty and integrety of the State Natural Area.
It's been a dream of the Friends of Dunbar Cave to have an Interpretive Center at the Dunbar Cave State Natural Area. They have been hosting fund raisers and events for many years towards this goal. This center will educate people on the history and geology of Dunbar Cave, and will help raise visitors' appreciation of the park and its rich history.
As a step in that direction the Friends group contracted the help of Clean Cut Productions at Austin Peay State University (APSU) to make a short introductory film for the Park.  This film, which was recently released, consists of three main parts:
How the cave was formed
The cultural history of the Park
The Park's  function as a Natural area
While the movie was being made the Tennessee Department of Environment and Conservation supported Dunbar Cave State Natural Area in creating a fully functional Audio Visual room and remodeling the entrance to that room in order to help contain the sound from the rest of the building.  Carpeting and furniture was replaced, the security of the Visitor Center was improved, and the building was painted.
Special thanks go out to the Friends of Dunbar Cave, David Boen, Ronnie Hunter, David Britton and to all of the Park staff for their part in making this happen.