Two Knoxville students place in national aviation art contest awards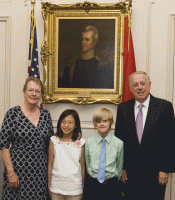 NASHVILLE — Governor Phil Bredesen congratulated two Knoxville, Tennessee elementary students at the state Capitol Thursday for placing first and second in their age group in a national aviation arts contest. The Governor recognized 4th grader Zeth Akins for placing second in the International Aviation Arts Contest. Student Chihye Kim was recognized for winning her age bracket in the National competition. Both children are students in Ms. Jeanne Hardin's class at Cedar Bluff Elementary School.
"Being an artist and a pilot myself, I'm especially appreciative and proud of the work of these young people and the recognition their work has brought to Tennessee," said Bredesen. "Congratulations to each of these students for their work, talent and achievement."
The annual International Aviation Art Contest, an event of the Federation Aeronautique Internationale (FAI) is cosponsored by the National Association of State Aviation Officials Center for Aviation Research and Education (NASAO Center) and the National Aeronautics Association (NAA).
The art contest encourages youth, ages 6-17, from all over the world to reflect on aviation by having them design a piece of art based upon the year's chosen theme. This is the 13th year that TDOT has sponsored the contest in Tennessee.
Nine-year-old Zeth Akins won first place in the statewide competition and went on to win second place in the national competition and second place in the international competition.
Nine-year-old Chihye* Kim placed second in the statewide competition and went on to win first place in the national competition.
"This contest not only encourages young Tennesseans to display their creativity, it also introduces them to the fascinating world of aerospace and aviation," said TDOT Commissioner Gerald Nicely. "This is the first time a Tennessee student has won the national competition and the first time a student has placed in the international competition. Congratulations to Zeth and Chihye on achieving this honor."
Based on this year's theme "Create a Poster for the World Air Games," students in age groups 6 – 9; 10 – 13; and 14 – 17 were asked to submit entries at the state level. These entries were judged on creativity, presentation, technical ability and appropriateness to the theme. First, second and third place winners were chosen in each category.
All first place winners received a $200 savings bond, second place winners received a $100 savings bond, and third place winners received a $50 savings bond. Artwork for all first place winners from Tennessee and from across the United States were forwarded to NASAO to compete at the national level. Winners then went on to compete in the International competition. This is the first time a Tennessee student has won the national competition, and the first time a student has placed in the international competition. National winners will receive a certificate, ribbon and a framed reproduction of their artwork. International winners will receive a certificate and either a gold, silver, or bronze medal, and the Art Department of each winner's school will receive a matching monetary gift
1st Place National, Junior Category (Age 6-9)
Chihye Kim, Age 9
Cedar Bluff Elementary School, Knoxville, TN
2nd Place International/2nd Place National, Junior Category (Age 6-9)
Zeth Akins – Age 9
Cedar Bluff Elementary School, Knoxville, Tennessee