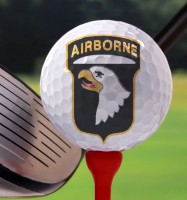 Update: Sunday Scores posted
FORT CAMPBELL – Summer time is here and it's time to hit the links as Major General Jeffrey J. Scholoesser, Commanding General of the 101st Airborne (Air Assault) Division welcomes you to the annual Commanding General's Golf Tournament at Cole Park Golf Club, Fort Campbell, KY. The tournament will start at 7 a.m. on Saturday, June 13 and conclude on Sunday, June 14 with an awards ceremony. 
Play is limited to 124 players. The field will be broken into flights (divisions of golfers within a tournament, determined by handicap) after Saturday's round. Based on a full field, there will be 4 open flights and 1 senior flight. The Senior Division (50 and older) will have low gross and low net winners, and will play the Gold Tees. The 10% improvement of target score in accordance with the Clarksville Golf Association will be in effect.
The tournament will be 36-hole, stroke play. The Open Division will play scratch and the Tournament Champion will be the player with the lowest 36-hole gross score from the Blue Tees. The lowest first round scores will be paired for the final round. Gift certificate will be given as prizes to the first 5 places in each flight.
For additional information on the Commanding General's Golf Tournament, please contact Cole Park Golf Club at (270) 798-4906.
Sunday Scores
2009 COMMANDING GENERAL'S GOLF TOURNAMENT

SENIORS

RICHARDSON
66
TAYLOR
69
HENSLEY
71
SHEARON
72
CROCKER
73
KELLY
73
WILKSINSON
73
HUDSON
74
CAMPEAU
75
JACKSON
75
BROWN
75
EDWARDS
76
BLACK
76
BRACY
76
SALLEE
77
RYE
77
CROZIER
77
BEDSOLE
78
VAIL
78
SPENCER
78
MERSING
79
GABHART
79
BARNES
80
PURDOM
81
SEAY
81
FARMER
83
CONLEY
83
VAN WHY
83
MILLER
85
OLIVER
86
MASTROSTEFANO
88
SHOCKLEY
89
BAGGETT
92
DOXTATER
101
TAYLOR
101
THIRD FLIGHT
WHITFORD
79
SWANSON
81
COOK
81
DUKE
81
ELL
82
ROSS
82
JONES
84
FLETCHER
84
KOCHER
84
HINSON
84
KOON
85
LOWELL
86
RODRIGUEZ
86
WEEKS
86
ONEAL
87
GLOSTON
88
WILSON
88
EAVES
89
GRICE
90
ISHIDA
90
FIELD
93
FERRIS
93
FELDKAMP
94
MCGARY
95
WHITSON
96
DAVIDSON
98
MAYO
99
PITTS
100
FALLS
102
PEAVEY
103
SPENCER
104
LOVE
105
HAIGH
107
SECOND FLIGHT


DESHIELDS
71
BLACKWELL
72
BRIGGS
73
HAHN
74
BAKER
75
GUINN
76
SLEIGH
76
CORNELL
76
PHILLIPS
76
WHITE
77
PARK
78
DREWRY
78
PIERCE
79
BLACK
80
BLACK (ADAMS)
81
BRISKEY
81
HUNTER
81
WHITLOW
81
DIXON
83
ROSS
83
GRAY
87
LEVALE
87
SLEIGH
89
IVORY
89
FIRST FLIGHT


SCHACHT
71
GREENE
72
LOFTUS
72
SNOOK
73
SWOPE
73
LONG
74
HODGE
74
PARSONS
75
SARTAIN
76
ELDRIDGE
77
ASHBROOK
77
MARKS
78
SALDANA
79
MASON
79
RICHARDSON
80
NORIEGA
80
SAMUELS
80
GULLETT
81
CAMPEAU
81
LOFTUS
81
SOHN
82
PARKER
82
RILEY
83
MCINTOSH
83
SWINDELL
86
CHAMPIONSHIP
MOORE
65
FISHER
66
GUINN
67
BATHROP
69
WEBB
69
FIELD
72
STEVENON
72
YINGLING
73
PARSONS
73
BLACK
73
TURNER
73
RANABARGAR
74
BRANNEN
75
BRANNEN
78
SLEIGH
79
BRADLEY
81
VICK
DNF