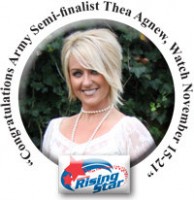 Clarksville's Thea Agnew made it into the final six contestants in Operation Rising Star. She now needs our assistance to make it into the final three. You can vote between 1:00-3:00pm and 8:30-10:30pm CST tonight at www.oprisingstar.com You can vote as many times as you want, it is an easy click vote system!
Operation Rising Star is an American Idol style singing competition which is hosted by the United States Army Family and Morale, Welfare and Recreation Command (MWR),  and Army Entertainment. The Semi-finals are being held at Fort Belvoir, Virginia, until November 21st.
Thea had this to say:
I need your help! I made the top 6 according to the voting site and now it is up to the public to pick who the top 3 are. The judges liked all of us, so the public will be the deciding factor. Today is the voting!

They are wanting the top 6 this morning to practice in case we make the top 3. So I am getting ready to leave.

Clarksville is a big city. Let's bring this hometown girl back with the title of Operation Rising Star! I know Clarksville can do it, if they knew.

Thanks for all your help and whatever you can do!!