Topic: Thea Agnew
Update: On April 22, 2010, A representative from The Rogers Group admitted to an Oakland Hills resident that called on behalf of the Stop The Quarry movement the plot outlined in the satellite photo IS one of the two sites they are considering in the Todd County!
I was called from a neighbor a couple of days ago about a problem that might be arising that will affect all the homes off Exit 1 around the Trenton/Tylertown Roads.  She went to Kentucky yesterday to get a plat of where this Quarry will be built. It is shocking how close it is to our subdivisions on the North side of Interstate 24!
Below I have placed a copy of the plat, so you can see if it will affect your area.  We understand that this is being built right inside the KY line but they will be using Trenton and Tylertown Road to get to the Hemlock. Not to mention the blasts that will shake all of our homes!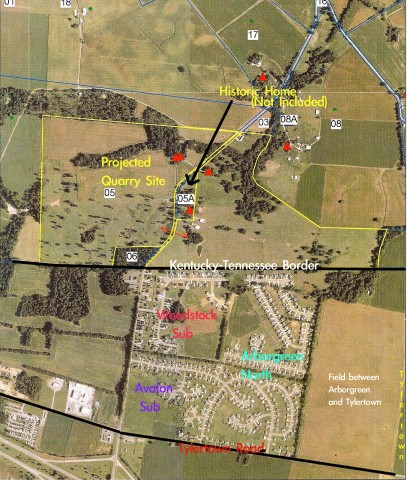 «Read the rest of this article»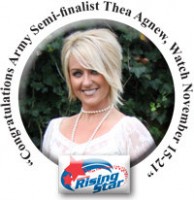 Clarksville's Thea Agnew made it into the final six contestants in Operation Rising Star. She now needs our assistance to make it into the final three. You can vote between 1:00-3:00pm and 8:30-10:30pm CST tonight at www.oprisingstar.com You can vote as many times as you want, it is an easy click vote system!
Operation Rising Star is an American Idol style singing competition which is hosted by the United States Army Family and Morale, Welfare and Recreation Command (MWR),  and Army Entertainment. The Semi-finals are being held at Fort Belvoir, Virginia, until November 21st.
Thea had this to say: «Read the rest of this article»
Voting for Fort Campbell & Clarksville is 8:00-10:30 on Sunday night. You can also watch live via the internet, at www.pentagonchannel.mil
The second day… First of all, from this day out I will refer to Operation Rising Star as ORS. Breaking it down a little. Whew! What a day.  It was suppose to rain but it held off and the sun shined through.  We started our day going through some vocal group warm ups, learning different technics.  We were able to get two of our group songs down for the show. We are above the curve, we were told, and so he gave us a little more time this morning to sleep in.  It was a late night.
After our practices on the group numbers we went to eat and then left for Ft. Myers.  On the way there we passed the Pentagon and saw the Airforce memorial, the Washington memorial (from afar) and the Arlington Cemetary.  I also got a call from Mayor Piper's office saying the Mr. Piper requested me by name to sing the National Anthem for the Volunteer ceremony that will be going on November 19th, my birthday.  I am in VA so I wouldn't be able to make it. I told her to please keep my name for any future events. She said she would. Anyway, when we arrived at the home of the Army Band, we went into a room with the band that will be playing for our competition.  They are DR, short for Down Range.  Great group of talented individuals.  You have to be, to be in this band! «Read the rest of this article»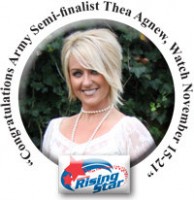 It turned out to be a beautiful morning yesterday when we all left the hotel for Ft. Belvoir's Wallace Theatre at 8:45. This is the home of the Army's Soldier Show. We weren't suppose to leave until 8:50, so while we were almost a couple of minutes away, someone counted heads and realized we were missing someone.  So we turned around and got Sarah.  Poor thing. She was standing on the steps looking at the schedule when we drove up.  I would have freaked out! So, we were now all together and on our way.
When we arrived we were given a tour of the stage and was able to walk on it.  It is at an angle, so it will be something to get use to when it is time to do our choreography. The reason for the design is to let the audience get a wider view.   The set looks awesome and it is a beautiful theatre. «Read the rest of this article»
Recently on the local news I heard that the real estate market is taking a turn for the worse once again.  As a REALTOR®, I feel you should know that what you hear on the TV news is geared toward their market.  The news on channel 2, 4, and 5 is geared toward Nashville.  It is not about Clarksville, unless otherwise noted.
As anyone who watches the local real estate market would know, Clarksville is unique.  We have frequent turn overs due to military and other support personnel moving in and out.  As a result our market is never stagnant. Yes there have been some tough times, but the we are getting through them. Our city was recently ranked the 2nd in the nation as a Safe Haven in real estate.  So, if you find that you need to sell your home,  you find yourself upside down on a loan due to not owning it long enough, or the neighborhood has deteriorated and so appraisals are now coming in lower than the value of your home, ask a realtor to help. There tools available to them which may be of assistance to you in your individual situation.
So, how is the local market faring?  Let's take a look.  We will be comparing in Nashville (Davidson County)  vs. Clarksville (Montgomery County)  for the months of January, February and March of 2008 and 2009. «Read the rest of this article»
News about the Clarksville-Montgomery County School system provided by local parent Thea Agnew
The Northeast High School Boys Basketball Team  was recognized last night at the Board of Education meeting.
Congratulations to the Eagles for their accomplishments in basketball this year. The list includes:
Season District Champs!
Tournament District Champs!
1st Sub State win in school history!
1st State Appearance in school history!
Finished top four in state!
27-7 record which was a school record!
We all have a feeling we will hear more from this team in the coming year! «Read the rest of this article»