Recently, I have taken some heat from readers for speaking out against certain "awareness campaigns."  One reader responded  awareness campaigns are good fund raisers for good organizations, and that I should not be so critical of the campaigns, but crtic how the organizations spend their money.  I recently learned of a website that allows donors to directly help people in need with very minimal organizational costs.  I thought I would share that with my readers.
Modestneeds.org is a website dedicated to preventing poverty before it happens. Keith Taylor, the websites founder, says the goal is to help people with short term needs, so that these short term problems do not snowball into bigger problems. «Read the rest of this article»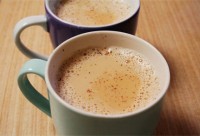 Do you love some chai on a chilly evening?  Oh, I do. I love it so much that I decided to make my own. Of course its cheaper than laying down three or four bucks a cup, but the best part is that it is absolutely delicious!
I started by searching the internet for information about what is actually in chai.  I learned that there are literally hundreds of recipes if not thousands.  So I found a great basic recipe and then tweaked it to work for me. «Read the rest of this article»
From all of us at Clarksville Online to you and all yours, a merry Christmas, and a Happy New Years! We sincerely hope that  the coming year is better for you, than the last one.