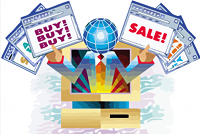 As with many of you here, I have had various courses in communication. From seminars to college courses I have tried to learn from them and become a better communicator both in person, verbal and via message.
When communicating via the Internet (email, blog, forum, website, etc) there are many aspects to communication that are missing: body language, voice inflections, facial expressions and gestures. This makes it difficult for the sender to get their message across to the receiver.
I can't tell you how many times I have read a message and received it in a totally different manner than what the sender had intended. Certainly I have written many communique that have been taken out of context. It is rather easy to do given the lack of factors mentioned above.
Many Professionals, whether they be Realtors, Mortgage Brokers, Car Dealers, etc. have flashy websites, speak eloquently, and even have photos of happy families posted on their sites. When you meet them in person you hardly recognize the person and while their website boasted quality service or many other aspects, you find out a little too late that the message received via the Internet was not an accurate depiction of the person, business or the service provided.
Conversely, there are many Realtors, Mortgage Brokers, Car Dealers, etc who have simple websites, cannot 'send' an electronic message as well and have little or no 'flash'. This is not always a bad thing. Possibly this is because they simply have a clientele base that speaks for itself? This is not to say they should ignore your queries, nor come off as rude or condescending.
I am sure there are many psychologists who have studied this phenomena over the past three decades. I may look to see what I can find in respect to this topic. I am doubtful they have figured it out or whether they ever will. I will let you know what I find out.
As we proceed down the information highway, the need for information and disclosure will become more paramount in the future. How does one protect themselves against inaccurate information, false guarantees, or downright scams? While there is certainly no sure-fire way to ensure that you or your family will not fall victim to signing with a lacking Realtor or scammed by a 'too good to be true' scheme there are ways to protect yourself. It starts with research.
While the Internet has quickly become the 'place to be' in most every profession from those selling goods, selling services as well as those trying to take advantage of the latest tragedy it has also become a great tool for researching. Google the name of the company, Realtor, etc and see what you find. Many times you may not find much at all, but others you may find positive or negative information about the professional or service rendered. Another option would be the local Better Business Bureau.
In the end, there is nothing better than interviewing the person or company performing the service or asking for references. I know in the Real Estate Profession your reputation is EVERYTHING. After all, our past clients are what largely makes us a success (or in some cases a failure). When dealing with large decisions in your life (and that of your family) you owe it to yourself to get the best goods or services that are available.
About Tim Cash
Retired First Sergeant.  Served with the 101st and the 160th SOAR(A).  Spent 16 of my 20 years in the Army in Clarksville/Fort Campbell.  Married to Pamela Ann and have one daughter Ashley.  I am passionate about our city and our great country.

I am a Realtor along with my wife Pam here in Clarksville.  Also serve on a non-profit association board.  Beyond that, I enjoy working in the yard and practicing the art of keeping Nishikigoi (Koi Carp)

Web Site: http://www.cashsofclarksville.com
Email:
Sections
Commentary
Topics
Better Business Bureau, Information Highway, Internet, Marketing, The Cash Team