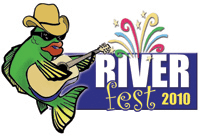 After three weeks of intensive auditioning, the winners of the Gateway to Stardom have been chosen to perform at this year's Riverfest event. Judges, Kelly Maselli, Art Conn, Rene Ross, Justin Byrk, Samantha Maselli and Chris Monholland, saw talented youngsters from age 6 to 21, sing and dance their way through the audition process to be named to perform for the annual event.
Maselli of Gateway Realty and Investment Group, started the Gateway to Stardom several years ago to showcase the young talent of Clarksville. Raising two teenage daughters, her house was quite often filled with talented younsters who she felt needed a venue to be seen and heard. Since Gateway Realty has sponsored a stage each year for Riverfest, Maselli  felt compelled to give these talented young people that much needed outlet.
This year's chosen few are: Julia Appleton, Brianna Carbary, Aaron Carmichael, Michael Cox, Billy Cunningham, Maddie Mauk, Dominique Dy, Shane Fallon, Humberto Figueroa, madison fisher, Whitney Gaston, Robert Betts, Kyle Greene, Steven Hawkins, Jordan Hawley, Ashley Hicks, Brooke Hudgins, Kyle James, Brooklyn Lyle, Kyusok Lee, Tae'Shaona Mathews, Adrienne Meadows, Makenna Cleveland, Briana Middleton, Richard Mosley, Martavious Votaw, Wesley Sutherland, Sera Owens, Jayonna Purcell, Cyrus Pryor, Darrion Reddin, Sophia Rodriguez, Ryan Ruppel, Courtney Sanford, Javier Sierra, Christa Waller, Christian Walls and Shaneva Woodard. 
They will perform on the Gateway Realty Stage between 4:00pm – 7:00pm on Saturday September 11th. The show will be hosted by Samantha Maselli and Justin Byrk.
Admission to Riverfest is free and runs Friday September 10th from 5:00pm to 11:00pm and Saturday September 11th from 10:00am to 11:00pm, with headliners, James Otto and Jimmy Wayne. 
For more information go to www.clarksvilleriverfest.com.