Written by Bagram Media Center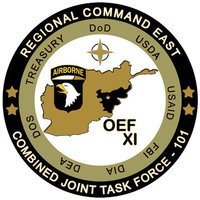 Ghazni, Afghanistan – Afghan National Security Forces and International Security Assistance Force Soldiers from Task Force White Eagle and Brawler killed five Taliban improvised explosive device emplacers September 2nd during combat operations in the Andar District of Ghazni Province.
An ISAF air weapons team observed the five Taliban fighters emplacing an IED, made a positive identification and engaged them, killing all five.
The site was investigated and the Taliban bodies were turned over to Afghan National Police while the IED, the command wire, and several rocket-propelled grenades were destroyed in place to prevent their further use against the Afghan civilian population and ANSF and ISAF members.
This failed emplacement follows another failed attack that occurred September 1st in Khowst District located in Khowst Province.  In this attempted suicide attack, a Taliban fighter accelerated a vehicle toward an ISAF route clearance patrol operating in the area. When the vehicle's driver attempted to detonate his vehicle-borne IED, only the initiation device exploded, killing him instantly, but not setting off the IED.  The vehicle was cordoned off by ANSF and ISAF forces, setting up a 300- meter safety zone, and destroyed with a controlled detonation.  No damage or injuries were reported.
"Today's failed attacks are a stunning example of the indiscriminate targeting of Afghan civilians by the Taliban," said Lt. Col. Daniel S. Morgan, chief of operations, Regional Command-East and Combined Joint Task Force-101.  "They don't care who they hurt by placing explosives on the roads that ordinary Afghan civilians travel on."
Coalition and ANSF will continue to actively pursue and stop anyone who attempts to use explosives to terrorize, injure and kill Afghan civilians and members of the Government of the Islamic Republic of Afghanistan as they go about their daily duties of building a safe and prosperous country. 
"Today, the Afghan people win, and there are six less terrorists and two less IEDs that they need to be concerned with," added Morgan.