Written by U.S. Army Spc. Richard Daniels Jr.
Task Force Bastogne Public Affairs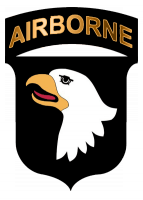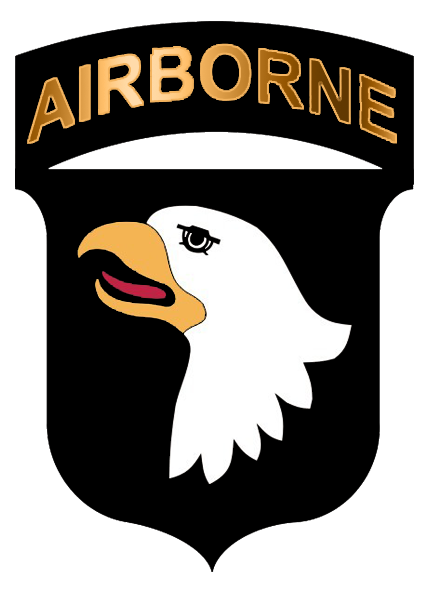 Nangarhar Province, Afghanistan – Task Force Bastogne in eastern Afghanistan's Nangarhar Province welcomed 1st Squadron, 61st Cavalry Regiment, Task Force Panther to their area of operations September 14th.
Task Force Panther uncased their colors at Forward Operating Base Connoly, signifying their assumption of authority of the Khogyani, Chaparhar, Surkh Rod, Pachir wa Agam, Sherzod, and Hezerak Districts.
"We look forward to working shoulder to shoulder, "shonna ba shonna," with our Afghan partners and will take the fight to the enemy to enhance security in this region; while bringing development, supporting governance, and expanding opportunity for the people of this historic land," said U.S. Army Lt. Col. William B. Johnson of Bruceton, TN, Task Force Panther commander.
Task Force Panther also used the ceremony as an opportunity to don their combat patches, marking the completion of their first 30 days in theater.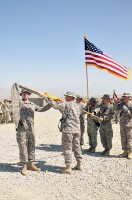 "This patch marks a significant milestone in a Soldier's career and life, signifying that you have answered our nation's call to go in harm's way and serve in her hour of greatest need," said Johnson. "The donning of our new patch today binds us together as members of 1-61 Cavalry of the historic 101st Airborne Division, all proudly wearing the 'Screaming Eagle'– a talisman that strikes fear into the hearts of our enemies and provides hope to our partners and the people we are here to serve."
With conditions steadily improving within eastern Afghanistan, Task Force Panther will assist with security and development, especially with the upcoming elections later this month.
"It is an honor to serve as part of Task Force Bastogne, where we know we will make a significant and demonstrable improvement to the conditions here in Western Nangarhar," he said. "It is an honor for us to write the next chapter in our Squadron's continued "Rendezvous with Destiny."