Written by U.S. Army Spc. Luther L. Boothe Jr.
Task Force Currahee, 4th Brigade Combat Team, 101st Airborne Division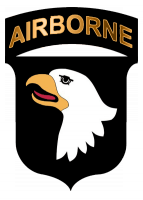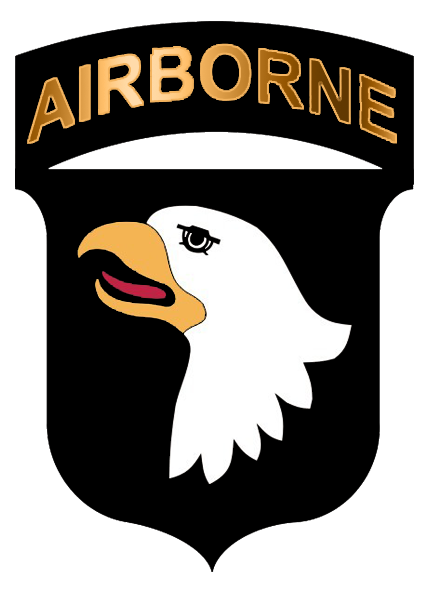 Forward Operating Base Sharana, Afghanistan – Soldiers from Task Force Currahee, 4th Brigade Combat Team, 101st Airborne Division, use division assets to decrease the combat logistic patrols and deliver supplies to far-reaching outposts quickly and more efficiently.

The 101st Abn. Div. is the U.S. Army's only air assault division with sling load operations for transporting cargo by helicopter that has made a significant impact in Operation Enduring Freedom.

"Here in Afghanistan, there are a lot of things that happen out on the road. You get a lot of [improvised explosive devices] out there and a lot of ambushes," said U.S. Army Sgt. 1st Class Anthony Booker of Kansas City, MO, the noncommissioned officer in charge of the helicopter landing zone of 2nd Battalion, 506th Infantry Regiment, 4BCT, 101st Abn. Div. "By sling loading [supplies] you can bypass all of that and get them out there a lot quicker."

The helicopter sling load method of carrying cargo and equipment overcomes many of the obstacles that can hinder other modes of movement. Of the many obstacles Soldiers face moving supplies throughout Afghanistan, the largest is the unique terrain, which ranges from deep valleys to elevations as high as 24,000 feet.
With the terrain, sling loading supplies is a lot faster, said U.S. Army Pvt. Philip C. Brosch of Houston, a motor transport operator and helicopter landing zone operations specialist with 2nd Battalion, 506th Infantry Regiment, 4BCT, 101st Abn. Div. "In some instances, we need to get supplies out quickly and it may only take a 15-minute flight, but the same trip can take some patrols up to 22 hours."
"Moving supplies in true air assault fashion is just faster," said Booker. "We can get cargo out, including emergency supplies, to various locations within hours, instead of a convoy that may take days."
The Currahees pride themselves on helping their comrades avoid the dangers of delivering supplies on combat logistic patrols.
"[Sling loading] is the safest way to get supplies out to the Soldiers out in the [combat outposts] and the other different [forward operating bases]," said Brosch. "When they are going out there on CLPs, they have to worry about [improvised explosive devices] and indirect fire. If we can get these [supplies] out there on helicopters, we can potentially save lives."
Members of the sling load team are proud they can move practically any cargo throughout Afghanistan with ease.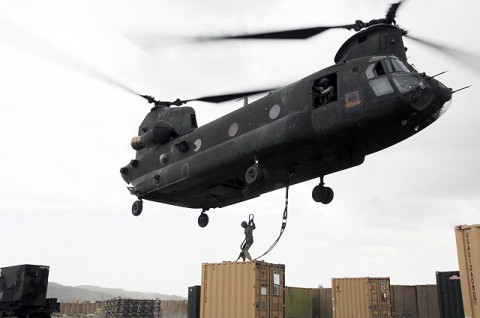 "We've moved ammo, water, food, storage containers, generators and even have plans to move a John Deer utility vehicle," said U.S. Army Sgt. Chris W. Park of Kansas City, KS, a sling load operations rigger/inspector with Company A, 801st Brigade Support Battalion, 4BCT, 101st Abn. Div.
The Soldiers realize time plays an important role in what they do, and they are prepared to meet the challenges that lie ahead.
"Sometimes we will have less than half an hour to get cargo prepared and ready to move," said Brosch. "It is crucial we get the equipment ready and properly inspected and ensure there are no deficiencies because we don't want the aircraft to crash or the cargo to fall from the sky."
"Sling load operations are a major part of the battle; it is a matter of life and death," said Park. "If you have a platoon-sized element out there getting attacked, and they need ammo within an hour, it is very crucial."
The job comes with some degree of difficulty, and there are many obstacles that can get in the way.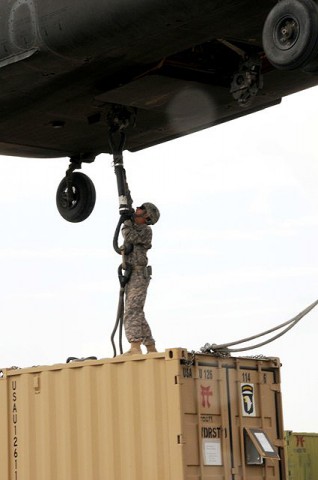 Weather is often a huge challenge, said Booker. Sometimes a little mist of rain or dust storms can cause the helicopters to be grounded and slow down the ability to get supplies to FOBs in need.
Running sling load operations for even one helicopter landing zone can be a huge responsibility for the personnel and requires attention to detail in order to prevent unnecessary hazards.
"When I get my rigging done, I have to go through and do my own inspection before my work gets inspected," said Brosch. "If one of these [supply containers] were to fall, [Soldiers] would have to go out there and pull security, and that is just putting guys in harm's way when I could have just taken the extra five or 10 minutes, slowed down and made sure everything is 100 percent the way it needs to be."
At the end of the day, a job well done leaves the Soldiers knowing they are making a difference on the battlefield.
"Doing this job gives me a real sense of accomplishment and a sense of worth," said Brosch. "I know everybody has their own job to do, but getting these supplies out to those who need them really makes me feel like I am contributing to the battle."
Sections
News
Topics
101st Airborne Division, Afghanistan, CH-47 Chinook, Fort Campbell KY, Forward Operating Base Sharana, Luther L. Boothe Jr., Operation Enduring Freedom, Regional Command East, Supplies, Task Force Currahee