Written by U.S. Army Sgt. Scott Davis
Regional Command-East Public Affairs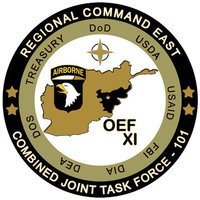 Bagram Airfield, Afghanistan – A servicemember is having trouble sleeping and when he does sleep he has nightmares. He's anxious all the time and doesn't really want to talk to anyone.
Does this person have post-traumatic stress disorder?
Although servicemembers can be diagnosed with different combat stress disorders, only a small number of servicemembers are diagnosed with PTSD.
"A lot of symptoms of PTSD, like having a hard time sleeping, being more irritable or being hypervigilant, can be absolutely normal when you are deployed or even when you get back home," said U.S. Army Maj. Sebastian Schnellbacher, Combined Joint Task Force-101 psychiatrist. "It's when those symptoms start to interfere with your daily life … I'd like to know about it so we can fix it before it becomes a real issue."
Servicemembers in remote areas experience traumatic events on an almost-routine basis and may notice some of these symptoms. The symptoms are normal reactions to stress and will usually go away on their own. There is a potential diagnosis of PTSD when these symptoms exist for an extended period of time and the servicemember doesn't seek help.
Many servicemembers having a difficult time handling stress don't want to say anything about it.
"They don't want to raise a concern that delays them from seeing their loved ones," Schnellbacher said. "In behavioral health we also think that's a real priority so if there is a Soldier who raises an issue or concern it doesn't mean there is going to be a delay. We are going to make sure the Soldier is taken care of but we are not going to let it impact other areas of the Soldier's life if we can help it."
Battle buddies are one of the biggest assets behavioral health has in identifying stress symptoms.
"The buddies are the key. Soldiers are much less likely to go to combat stress centers themselves than recommend a friend.  We need to take care of the people around us," said Schnellbacher, a native of St. Louis, MO "It's really that Soldier's leader's responsibility, the Soldier's buddies' responsibility, the medic's responsibility to see that Soldier and to notice if something is wrong."
If the first-line support feels a servicemember is having trouble, the servicemember can be sent to Bagram Airfield to go through the Freedom Restoration Center or Combat Stress Center as another option.
The Freedom Restoration Center is an all-volunteer, four-day program designed to give a servicemember a chance to relax and set up healthy routines for them to ease the stress they endure.
"A lot of the frontline Soldiers out there fighting don't want to go home. They want to stay," said U.S. Army Capt. Brandy Hellman, 254th Combat Operation Stress Detachment clinical psychologist.
Servicemembers with stress issues can stay in theater as long as they get help and Hellman said the FRC is great a way to do that.
The CSC offers coping classes that teach techniques to help handle stress in a healthy way. There are also professionals to talk to, such as Schnellbacher, and medication if needed.
"There is a perception that going to behavioral health can impact your career and the reason for that is most people wait until it is already impacting their career to come to behavioral health," said Schnellbacher.
"These guys and girls are amazing," said Hellman, a Gettysburg, PA, native. "For the most part, these are young men and women put out on a remote combat outpost and the things they see and do just shows how brave they are. They are really inspiring and they have these life experiences that are going to set them apart from the rest of their peers for the rest of their lives."
Sections
News
Topics
Afghanistan, Bagram Airfield, Brandy Hellman, Combat Stress Center, Freedom Restoration Center, Post-Traumatic Stress Disorder, PTSD, Regional Command East, Scott Davis, Sebastian Schnellbacher, Stress