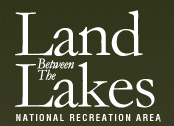 Golden Pond, KY – It's time to slip on your hiking boots or grab your bike and get out on your favorite trails at Land Between The Lakes (LBL) National Recreation Area!  LBL recreation staff has planned another workday near Gray Cemetery Saturday, October 16th, 2010.
Staff and volunteers will be meeting at 8:30am at Gray Cemetery and working from 9:00am-3:00pm. Gray Cemetery is located on Road 130 approximately 2 miles west of The Trace. The trail work will include clearing a corridor for a new trail re-route and resetting flagging. 
"Trails offer a relaxing way to enjoy the outdoors. This is an opportunity to give back something that everyone will appreciate," said Kyle Varel, Assistant Trails Manager at LBL. "It is also an excellent way for families to become more aware of their natural environment while spending quality time together. Because of the dedication and hard work of our volunteers, we recently completed a trail re-route at Moss Creek Day-Use Area."
Land Between The Lakes trails offer hikers and bikers over 100 miles of scenic trails along towering hardwood forests, sweeping open lands, and tranquil shorelines. The staff and volunteers from LBL and "Friends of LBL" (LBL Association) have planned several trail re-route projects to take place throughout the year. These projects, with the help of volunteers, will help maintain or improve our trails system at LBL.
"Volunteers are very important to public lands, and we welcome anyone who is interested. This is a wonderful way to meet some great people with similar interest and learn more about LBL and other volunteer opportunities that are available here," said Emily Schmadeke, Volunteer Coordinator with "Friends of LBL."
Participants volunteering to help out on the hiking and biking trails are encouraged to pre-register by calling 270-924-2007.  Hard hats and all necessary tools will be provided for their use, as well as Permethrin insect repellant. Participants are encouraged to bring plenty of drinking water, lunch and snacks, sturdy boots (no flip-flops or open-toe shoes), work gloves, and eye protection with them. 
For more information, contact Emily Schmadeke at 800-455-5897 or 270-924-2007, or by email at , and make plans for a memorable day in LBL. 
About Land Between The Lakes
Land Between The Lakes is managed by the Forest Service, U.S. Department of Agriculture, in partnership with "Friends of LBL," to provide public lands outdoor recreation and environmental education. LBL information and maps are available on our website at www.lbl.org or by calling 1-800-LBL-7077 or 270-924-2000. We encourage visitors to review our website each season, and throughout the season, for our Calendar of Events, updates on programs and policies, safety information, and temporary trail and road closures.  You can find out more about "Friends of LBL" at www.friendsoflbl.org.