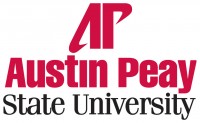 Clarksville, TN – This fall, nine Austin Peay State University students are moving a step closer to careers as professional artists by hosting public exhibitions of their work.

The students are enrolled in the Senior Exhibition class, taught by professor of art Gregg Schlanger. The class requires students to present their work in a public setting to earn their Bachelor of Fine Arts degree.

The APSU Department of Art has scheduled these student art exhibitions on the main campus for this spring, and all shows are open to the public.
The seniors scheduled to present are the following:
November 1st-5th: Sarah Andrews, Trahern, 108.
November 15th-19th: Zack Finney, Trahern, 108.
November 22nd-24th: Holly McClelland, Trahern, 108.
November 29th-December 3rd: James Linkous, Trahern, 108.
December 6th-10th: Courtney Kroupa, Trahern, 108.
December 6th-10th: Visual communication group exhibit featuring graphic design work by Marco Lamar, Tomas Lopez, April Mathews and Britney Williams, Trahern Gallery.
For more information, contact Schlanger at 931-221-7789 or .
Sections
Education
Topics
APSU, APSU Department of Art, Austin Peay State University, Bachelor of Find Arts Degree, Gregg Schlanger, Senior Exhibition Class, Trahern