13-Years After His Charred Remains Were Discovered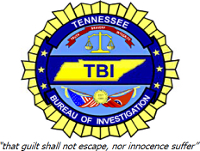 Nashville, TN – The Tennessee Bureau of Investigation has positively identified the remains of an unidentified victim of a 1997 murder in Humphreys County, TN through DNA from family members after several twists and turns in the 13-year-old case.
"Andrew" a hitchhiker who was picked up by his murderer in Albuquerque, NM, was found in a burned car on the side of Altamont Mountain on the Cumberland Plateau in Grundy County on July 13th, 1997. After two men were charged in connection to his murder, the search for his identity continued on until this week when it was determined he was 32-year-old Andrew Joseph Bluitt, originally from Michigan.
A composite sketch was compiled by a TBI artist from a description given by one of the defendants in the case and put on The Doe Network website in hopes that someone would see the sketch and recognize him. In July of 2010, the TBI received a phone call from an out-of-state woman who saw the sketch and believed it to be her brother.
After corresponding dental records didn't produce a match because of the condition of the remains, an intake photo from the Maricopa Jail in Arizona was located and taken to one of the defendants who positively identified Bluitt as the victim. TBI proceeded to obtain hair samples from Bluitt's family members.
A California laboratory, which had Bluitt's DNA profile on hand from one of his teeth because of a previous comparison to another missing man, confirmed a match Bruce Alan Littleton of Smyrna, TN was indicted on murder charges in 2000 and pled guilty in October 2001 to second degree murder for killing "Andrew." Another hitchhiker, Joel McElroy, was traveling with Littleton when Bluitt was murdered. McElroy also pled to charges related to his role in the crime and was sentenced to several years in prison
At the time of the murder, Littleton was awaiting sentencing in federal court for cocaine trafficking and planned to fake his own death. He picked up McElroy and Bluitt out west and drove to Tennessee. He strangled Bluitt with a belt under the Tennessee River Bridge in Humphreys County. Littleton kept the body in the backseat of his car under a blanket for two days at his apartment in Smyrna. Then Littleton drove to Grundy County, staged a car crash, put Bluitt's body in the driver's seat, poured gasoline in the car and set it on fire.
Bluitt's body was originally misidentified through dental records by the state medical examiner, Dr. Charles Harlan, as Littleton. Bluitt was buried next to Littleton's father in Wayne County, TN until TBI exhumed the body in 1999 and sent the remains to the University of Tennessee Forensic Anthropologist Office in Knoxville, TN.
Littleton was sent to federal prison to serve his drug violation sentence and is now in state prison serving a 20-year sentence for second degree murder. McElroy is on active supervised parole at this time.
Sections
News
Topics
Albuquerque NM, Altamont Mountain, Andrew Joseph Bluitt, Bruce Alan Littleton, Charles Harlan, Cumberland Plateau, DNA, Grundy County, Hitchhiker, Humphreys County, Joel McElroy, Smyrna TN, TBI, Tennessee Bureau of Investigation, Tennessee River Bridge, University of Tennessee Forensic Anthropologist, Wayne County