Lisa Schluttenhofer is a woman on a mission. As the 2010 American Honey Queen, she travels the United States extolling the virtues of the simple honeybee.
Clarksville, TN – Cave paintings from around 6000 B.C. show the importance of bees and honey to man by showing people collecting honey from bee colonies. Honeybees are not native to North America, they were brought from Europe by early settlers.  Most honeybees are not aggressive by nature, and will not sting unless protecting their hive from an intruder, or they are provoked.  They live in a highly organized society, with bees taking on specific roles during their lifetime: such as the queen, nurses, guards, grocers, housekeepers, construction workers, royal attendants, undertakers, foragers, etc. A queen bee lives for several years, during which she will lay around 2,000 eggs per day in early spring. Worker bees live for 6 weeks during the busy summer, and for 4-9 months during the winter.
The popularity of beekeeping peaked in the United States before World War II. When sugar was scarce, honey was used as an alternative sweetener.  In fact bee keeping was so popular that bee hives  could be ordered out of Sears and Roebuck catalog.  Sadly bee keeping faded somewhat in popularity in the urbanization of America after  the war. That is something Schluttenhoffer is looking to help change.
Lisa Schluttenhofer has been keeping bees since she was 12 years old. "Nobody in my family had ever kept bees before. I took a class in beekeeping in school, now I am one of over 200,000 beekeepers in the United States,"  she said. "It's a fantastic hobby that people can enjoy, and as a beekeeper you get to enjoy the sweet rewards of your labor by collecting the honey your bees produce."
There are around 300 different regional honeys. The flavor of the honey is determined by the source of the nectar the honeybees collect. In Tennessee the most common sources of the nectar is Clover, Sourwood, Black Locust, and  Tulip Popular. Schluttenhofer said, "Everyone's life is influence by honey bees, they add a lot of the flavor and nutrition in your life."  To help you find how best to use those flavors, check honey.com, which has thousands of recipes which show easy it is to cook with honey.
Not only do bees produce honey, they also make beeswax which can be used in many products. Such lotions and lip balms. Some best beauty secrets come from bees. Honey draws in moisture from the air and so help keep skin soft and smooth. Beeswax helps to seal in that moisture, so it's a fantastic combination to protect your skin especially in winter time. Burts Bees is one such brand that has capitalized on their association with honeybees, however many local beekeepers will also produce similar products.
The beekeeping industry touches the lives of everyone, honeybees are responsible for nearly one-third of our entire diet, due to the pollination services that they provide for a large majority of fruits, vegetables, nuts and legumes. This amounts to nearly $15 billion per year of direct value from honeybee pollination to United States agriculture, and $100 million to Tennessee.
If you want to become a beekeeper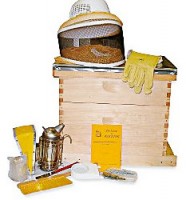 When asked how someone could become a beekeeper, Schluttenhofer  said, "The first thing I would recommend is getting involved in your local or state beekeeping organizations. They would advise you on what equipment you need to purchase, and any specialized local knowledge they have gathered." She continued, "You don't need a large tract of land, many people keep bees in towns, but you should check with the county extension office to check on the zoning requirements and other ordinances in  your town." Some of the benefits she identified include increased yields in backyard gardens. Tomatoes are not dependent on honeybees but they will experience increased yields and larger fruits.
A lot of local bee clubs are starting to do beginning beekeepers classes, so check with them.
The Montgomery County Bee Keepers Association meets at the Clarksville-Montgomery County Beekeepers Association meets monthly at the Clarksville-Montgomery County Public Library. For more information contact Jason Groppel at 931-358-4003.
What to do if you find unwanted bees on your property
If you ever find honey bees in a swarm. the best thing to do is to contact a local beekeeper. Generally beekeepers will be happy to remove them from your property for you.
Colony collapse disorder.
In recent years honey bee populations have been declining. In late 2006 this was termed Colony Collapse Disorder, an condition that results in some beekeepers losing over 40% of their beehives. Colony collapse disorder has been found in every state, it is one of many terms used when talking about bee health issues. Researchers around the country are working very hard to identify the causes of this syndrome and to find a solution.  Theories behind the cause of  Colony Collapse Disorder range from pesticides to parasites.
About Lisa Schluttenhofer
Lisa is the 20-year-old daughter of Mike and Roberta Schluttenhofer of Thorntown, IN.  She is a junior at Purdue University where she is majoring in Agricultural Communication. At Purdue, she is active in the College of Agriculture Dean's Scholars Program and activities at St. Thomas Aquinas Church.  She has been a beekeeper for eight years.
As the 2010 American Honey Queen, Lisa serves as a national spokesperson on behalf of the American Beekeeping Federation, a trade organization representing beekeepers and honey producers throughout the United States. The Honey Queen and Princess speak and promote in venues nationwide, and, as such Queen Lisa will travel throughout the United States during her year-long reign. Prior to being selected as the American Honey Queen, Lisa served as the 2009 Indiana Honey Queen. In this role, she promoted the honey industry at fairs, festivals, and farmers' markets, via television and radio interviews, and in schools.
About Bill Larson
Sections
News
Topics
American Honey Queen, Beekeepers, Bees, Beeswax, Cave Art, Clarksville-Montgomery County Public Library, Colony Collapse Disorder, Jason Groppel, Lisa Schluttenhofer, Mike Schluttenhofer, Montgomery County Beekeepers Association, Pollination, Roberta Schluttenhofer, Tennessee, World War 2, WWII