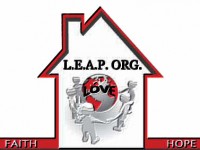 Clarksville, TN – On November 19th,2011 Sherry Walcott signed her lease in the offices of Millan Enterprises to be the first single parent assisted under the L.E.A.P.Housing Program.
Through a partnership with Millan Enterprises, L.E.A.P.provides housing to low income single parents who find themselves in dire need of housing. Sherry will receive the first two months of housing free of charge. The 3rd and 4th month will be $225.00. With additional assistance such as job training, resume writing, and interview technique coaching, the goal is to assist Ms Walcott in becoming self sufficient by the 5th month to take care of her family with limited to no assistance so that L.E.A.P.can reach out and help the next family.
Sherry received the key to her apartment on November 22nd and had these remarks after touring the apartment, "This is truly an answered prayer. After all my kids and I have been through, I am so grateful."
Many other organizations such as the Hispanic Organization for Progress & Education (H.O.P.E.), the Emmanuel Family Life Center, First Missionary Baptist Church, the Convenient Shopper, Clarksville Restore, and several members of the community have came forth to offer additional assistance by providing much needed items for the family to start over. Couches, appliances, cookware, clothing, and other household items were donated to aid the family.
LEAP founder, Richard "Reason" Garrett, said, "I appreciate those that believed in me and this vision that God gave me years ago when I first began to share it. Although fulfilling the vision in its entirety is still a ways off, I count it a blessing to see steps being taken in the right direction to make it manifest. I am excited for this organization and the doors being opened so that we can continue to be a blessing to the city of Clarksville by LEAPing for success through faith, education, and outreach."
For additional information about L.E.A.P.or to apply for its programs please visit www.leaporg.net.
Photo Gallery
About L.E.A.P.
"The mission of L.E.A.P. is to develop and strengthen communities of productive citizenship with values of Leadership, Enlightenment, Academic Achievement, and Perseverance through faith, hope and love by providing mentoring, tutoring, affordable housing, and various assistance programs"
Sections
News
Topics
Clarksville Restore, Convenient Shopper, Emmanuel Family Life Center, First Missionary Baptist Church, H.O.P.E., Hispanic Organization for Progress & Education, L.E.A.P Housing Program, L.E.A.P., Milan Enterprises, Richard "Reason" Garrett, Sherry Walcott