APSU Men's Basketball 

Richmond, KY – Austin Peay State University snapped Eastern Kentucky's four-game winning streak as it used a 11-0 second-half opening run to propel the Govs to a 61-52 verdict, Thursday night, in Ohio Valley Conference men's basketball action  played at McBrayer Arena. 
The victory allowed the Govs to move alone into first place in the OVC at 8-2—former co-leader Tennessee State dropped a 72-65 decision at Morehead State. APSU also moved to 14-8 overall.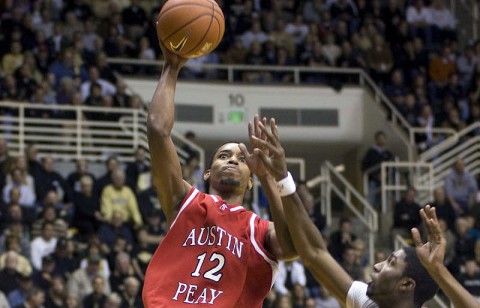 Eastern Kentucky, meanwhile, slipped to 11-10 overall and 5-5 in the OVC. 
EKU controlled the first half with its methodical but efficient offense by knocking down seven three pointers, five from preseason All-OVC selection Justin Stommes, while the Govs were unable to get untracked offensively, shooting just 9 of 23 (39.1 percent) from the floor. 
But the Govs opened the second half with renewed energy. John Fraley, playing his best game since the Christmas break, opened the half with a layup. Then Will Triggs, who started his first college game in place of the ill Melvin Baker, muscled inside for a bucket.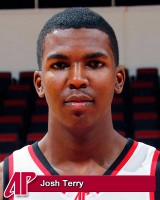 Josh Terry then came up with a steal but missed the challenged layup. However, Triggs was there to gobble up the rebound and lay it in to tie the game 31-31. OVC leading scorer TyShwan Edmondson, who tallied just eight points on the night, then knocked down a three pointer to give APSU the lead (34-31) for the first time since the 9:46 mark of the first half. 
Two Josh Terry free throws made it 36-31 Govs lead just 3:09 into the final half. 
Finally the Colonels Joshua Jones made a pair of free throws to stop the Govs run before APSU would go up by seven, 40-33, on a Caleb Brown three pointer.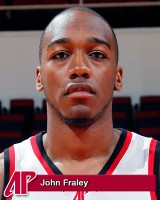 Eastern Kentucky would claw its way back and finally tied it at 43-43 when Josh Daniel nailed a three pointer. But APSU would not let EKU regain the lead as Brown and Terry both hit a pair of free throws before Brown made it a seven-point game with his second second-half three pointer with 6:59 left. 
The Colonels would never get closer than four points the game's remainder as the Govs' defense held EKU to just 38.1 percent (8 of 21) second-half shooting. Stommes, who was 5-of-6 from the floor (all three pointers) in the first half, attempted just three second-half shots with Terry guarding him closely. 
Added to that fact is APSU forced seven turnovers in the final half while not allowing one offensive rebound. The Governors, meanwhile, had just two second-half turnovers while grabbing five offensive rebounds. 
As a result, APSU, which had not out-rebounded a Division I opponent since defeating Eastern Kentucky in Clarksville back in mid-December, finished with a 37-24 rebounding margin. 
Terry finished the night with 14 points, a career-best six assists and four steals on the night while Fraley added 14 points, going five-of-eight from the floor, and nine rebounds.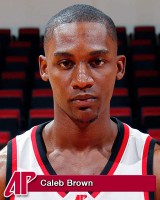 Brown snapped a recent scoring slump with 11 points.  Freshman Triggs added eight points and nine rebounds. 
Spencer Perrin, who scored 13 points in the final half to keep EKU in the contest, finished with 19 points and 10 rebounds. Stommes ended with 18 points. 
The Governors travel to Morehead State Saturday for a 6:00pm tipoff. 
Box Scores
Austin Peay vs Eastern Kentucky
01/27/11 – 8:05pm at Richmond, KY — McBrayer Arena 
Austin Peay 61
 
 
 
Total
3-point
 
Rebounds
##
Player
p
fgm-fga
fgm-fga
ftm-fta
off-def
tot
pf
tp
a
to
blk
stl
min

10 

TRIGGS, Will 

f 

1-1 

0-0 

2-5 

1-5 

6 

2 

4 

0 

0 

0 

0 

13 

23 

TERRY, Josh 

f 

3-7 

0-0 

0-0 

0-0 

0 

1 

6 

2 

0 

0 

2 

17 

21 

FRALEY, John 

c 

4-5 

0-0 

1-2 

3-4 

7 

2 

9 

0 

1 

1 

0 

20 

03 

BROWN, Caleb 

g 

0-2 

0-1 

0-0 

0-2 

2 

0 

0 

0 

1 

0 

0 

15 

12 

EDMONDSON, Tyshwan 

g 

1-5 

1-4 

0-0 

0-0 

0 

1 

3 

2 

2 

0 

1 

18 

04 

WILLIAMS, Marcel 

– 

0-0 

0-0 

0-0 

0-0 

0 

0 

0 

0 

0 

0 

0 

0+ 

05 

CALDWELL, Tyrone 

– 

0-0 

0-0 

0-0 

0-1 

1 

0 

0 

1 

2 

0 

0 

5 

20 

BAKER, Melvin 

– 

0-1 

0-0 

3-4 

1-0 

1 

0 

3 

0 

0 

0 

0 

7 

32 

BLAKE, Justin 

– 

0-2 

0-2 

0-0 

1-0 

1 

1 

0 

1 

0 

0 

1 

5 

TM 

TEAM 

– 

– 

– 

– 

0-0 

0 

– 

– 

– 

– 

– 

– 

– 

 

Totals………….. 

– 

9-23 

1-7 

6-11 

6-12 

18 

7 

25 

6 

6 

1 

4 

100 

 

39.1% 

14.3% 

54.5% 

 
Team summary:
 
FG
3FG
FT
 
1st Half: 
 

9-23 

1-7 

6-11 

 

39.1% 

14.3% 

54.5% 

 
2nd Half: 
 

0-0 

0-0 

0-0 

 

0.0% 

0.0% 

0.0% 
Eastern Kentucky 52
 
 
 
Total
3-point
 
Rebounds
##
Player
p
fgm-fga
fgm-fga
ftm-fta
off-def
tot
pf
tp
a
to
blk
stl
min

24 

JOHNSON, Jeff 

f 

2-3 

2-3 

0-0 

0-0 

0 

2 

6 

0 

0 

0 

0 

8 

32 

PERRIN, Spencer 

f 

3-8 

0-2 

0-0 

2-5 

7 

2 

6 

1 

0 

2 

0 

14 

05 

JONES, Joshua 

g 

1-4 

0-2 

0-0 

0-1 

1 

0 

2 

2 

0 

0 

0 

16 

22 

DANIEL, Josh 

g 

0-4 

0-3 

2-2 

2-0 

2 

1 

2 

0 

1 

0 

1 

17 

31 

STOMMES, Justin 

g 

5-6 

5-6 

0-1 

0-1 

1 

0 

15 

2 

2 

0 

0 

18 

01 

CRUZ, Willie 

– 

0-0 

0-0 

0-0 

0-3 

3 

1 

0 

0 

1 

0 

0 

6 

12 

NEWBY, Jabs 

– 

0-0 

0-0 

0-0 

0-0 

0 

0 

0 

2 

0 

0 

0 

4 

15 

JONES, Jaron 

– 

0-0 

0-0 

0-0 

0-0 

0 

0 

0 

0 

0 

0 

1 

2 

20 

ALLGOOD, Jeff 

– 

0-0 

0-0 

0-0 

0-0 

0 

1 

0 

0 

0 

0 

0 

3 

41 

FILIPEK, Taylor 

– 

0-1 

0-1 

0-0 

0-0 

0 

1 

0 

0 

0 

0 

0 

12 

TM 

TEAM 

– 

– 

– 

– 

0-1 

1 

– 

– 

– 

– 

– 

– 

– 

 

Totals………….. 

– 

11-26 

7-17 

2-3 

4-11 

15 

8 

31 

7 

4 

2 

2 

100 

 

42.3% 

41.2% 

66.7% 

 
Team summary:
 
FG
3FG
FT
 
1st Half: 
 

11-26 

7-17 

2-3 

 

42.3% 

41.2% 

66.7% 

 
2nd Half: 
 

0-0 

0-0 

0-0 

 

0.0% 

0.0% 

0.0% 
| | | | |
| --- | --- | --- | --- |
| Score by Periods |  1st   |  Total  |   |
| Austin Peay   | 25  | 25  | Record: (14-8, 8-2 OVC)  |
| Eastern Kentucky   | 31  | 31  | Record: (11-10, 5-5 OVC)  |

Officials: Daryl Smith, Stephen Divine, Jeffrey SmithTechnical fouls: Austin Peay-None. Eastern Kentucky-None.Attendance: 4100