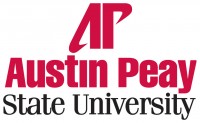 Clarksville, TN – Williams Sinclair left the conference early in order to make it home in time for class. The Austin Peay State University graduate student in English traveled to Daytona Beach, FL, in early February, at his own expense, to participate in one of the prestigious Kennedy Center American College Theatre Festival's regional conferences. But by the event's final day, he simply had to get home, missing the award ceremony.
The KCACTF Festival is an intense five-day conference consisting of workshops and competitions for college students interested in all forms of theater production, from acting and directing to scenic, lighting and costume design. Sinclair attended previous conferences as an actor and aspiring playwright, but for the last two years, he has decided to branch out into a new field – theater criticism.
"Because I'm an English (graduate student), that's something that appealed to me," he said.
At the conference's National Critics' Institute, students meet for a series of writing workshops. They also attend the student productions that are brought to the conference to compete for different awards.
"After each performance, the NCI participants go back and write a theater critique for the production they just saw," Sinclair said. "Then they get together in a workshop setting the next day and go over them and talk about different things."
At the end of the conference, a winner is selected from among these critiques, and the student author is sent to the National Conference at the Kennedy Center in Washington, D.C. Sinclair knew he wrote some strong criticisms of the plays he saw. Last year, he'd been a runner-up for the NCI's top criticism prize and this year he thought he might have a chance at winning. But he needed to get home to Tennessee, so he missed the conference's final award ceremony. His curiosity over what happened didn't last long. That night, he received a phone call with the good news. The judges deemed his writing the best, making him one of only eight students from around the country selected to attend the national conference this April.
"The winner receives a fellowship to that conference, and the Kennedy Center then pays for travel and everything," he said. "At the Kennedy Center, you go through the same process, but who you're working with kind of bumps up."
At previous national conferences, high-profile theater critics from National Public Radio and the Village Voice have attended to work with participants. Under the guidance of these professionals, the students again write criticisms of the plays they watch. At the end of that conference, a winner is selected to receive a full paid fellowship to the summer's O'Neal Playwrights Festival. That event doesn't simply cater to college students. It's attended by talented, professional playwrights from across the country.
Sinclair is interested in the potential to attend the O'Neal festival, but for now, he is focused on his April trip to the National KCACTF Conference.
"The opportunity to go to the Kennedy Center is a pretty big deal. It'll be an experience," he said. "I'll be spending time working with professionals on different aspects of theater criticism. But it'll be a lot more in depth. The ability to network is really nice, too. It's a close-knit community. Getting to know those people and develop relationships with them is pretty cool."
Playwriting, however, remains his first passion in the field. Sinclair is finishing up his final semester at APSU as an English graduate student, and he is currently working on his creative thesis – an original, full-length play titled "The Bird Watcher." And his long-term plans include pursing a Master of Fine Arts degree in playwriting some day. His recognition as one of the top student theater critics in the country should help with the application process.
"A lot of the playwriting program are super selective, so having something stand out on your resume is a bonus," he said.