APSU Men's Football

Clarksville, TN – Steve Haywood, who has been a part of the Austin Peay State University football program as a player and later as a coach for nearly 17 years, has resigned as Governors offensive line coach to accept as high school coaching position in Nashville.
Citing "family considerations," Haywood is leaving his alma mater to accept an assistant coach position at Christ Presbyterian Academy.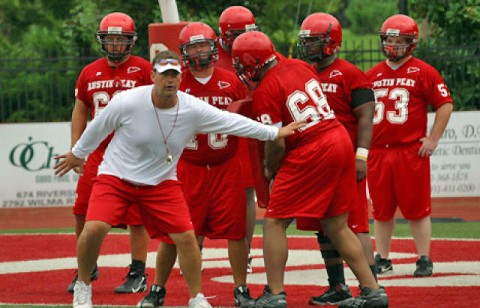 "Steve is phenomenal football coach, but more than that he is just a good human being," APSU coach Rick Christophel said. "He cares a lot about his players and was a great ambassador for this University, first as a player, then as a graduate assistant and then as an assistant coach here for long period of time.
"You can't measure the value of that kind of person to this program."
Austin Peay will immediately attempt to hire a replacement as the Governors are slated to begin spring practice next Tuesday.
Haywood served as offensive line coach for Christophel since 1997, being retained from Carroll McCray's staff.  McCray also elected to retain Haywood from the Bill Schmitz staff when the former took over the program in 2003.
In fact, Haywood just completed his ninth season of his second tenure with Austin Peay, gaining a reputation of developing his lines through chemistry. In 2006, APSU's last season as mostly a non-scholarship program, he developed a line that produced a 1,000-yard rusher and 1,000-yard passer in the same season for the first time in program history. Using basically the same line that was recruited as non-scholarship players, Austin Peay produced a rusher (Chris Fletcher) in 2007 who gained nearly 2,000 yards in APSU's first season back in the Ohio Valley Conference as a scholarship program.
He also coached an offensive line that helped produce a pair of first-team All-OVC running backs in 2009. That line was led by first-team All-OVC guard Stanley Brooks, a former walk-on who was shifted from defensive line to offensive line just prior to his junior season.
Haywood returned to his alma mater in 2000 as offensive line coach for Schmitz after serving one season as offensive line coach at the University of the Cumberlands (KY). In 2001, his career took a dramatic turn when he accepted the challenge as the Govs defensive coordinator, a position he maintained until initiating the move back to offensive line in 2005.
The Huntingdon native first came to APSU in 1993, starting at tackle as a freshman. A year later he was shifted to his more natural guard position, where he played for the next three (1994-96) years. He earned second-team All-OVC honors as sophomore and honorable mention his senior season. He also was voted team captain as a senior.
After completing his eligibility in 1996, he remained at APSU as a student assistant offensive line coach in 1997 and then became graduate assistant a year later, working with the defensive line.
Haywood received his bachelor's degree in health and human performance in 1997 and his master's the following spring.
He is married to the former Kim Laub, a former Lady Govs tennis player. They are the parents of Lucy Ellen, age 3, and Hannah Kate, age 1.
"I want to wish Steve and his family all the best in this new endeavor," Christophel said. "He will be successful I have no doubt in my mind.
"Now we have to turn our thoughts to this program and fill the void as quickly as possible with someone we believe is capable and someone who knows our system."