By Spc. Ashley M. Outler
28th Public Affairs Detachment
Joint Base Lewis-McChord, WA – "I flew super fast, I flew low, and I flew hard, like I stole it," said Chief Warrant Officer 3 Todd Peterson, Chinook helicopter pilot, 160th Special Operations Aviation Regiment (Airborne), about the night that his crew and two others flew a dangerous but crucial mission that sacrificed their lives for the safety of other forces and earned them the Distinguished Flying Cross for their heroism and valor.
Eight Soldiers of the 160th SOAR who braved the mission were awarded the Distinguished Flying Cross during a ceremony at Joint Base Lewis-McChord, April 11th.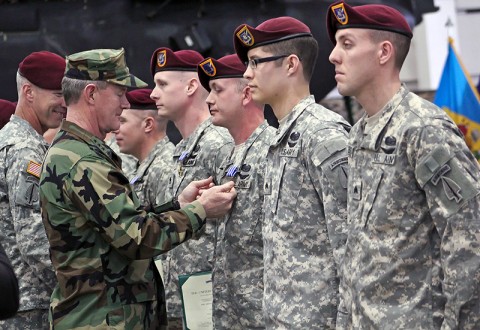 Awardees were:
Chief Warrant Officer 4 Bernard Litaker, Jr.
Chief Warrant Officer 3 Maciek Mankowski
Chief Warrant Officer 3 Todd Peterson
Staff Sgt. Benjamin Tate
Staff Sgt. Stanley Yeadon
Sgt. Jason Brown
Sgt. Jeremy Gribble
Spc. Matthew Jones
On that September night in Afghanistan, 2009, unexpected orders came down for a mission in which success depended on the expertise of highly skilled MH-47 Chinook helicopter crews, Navy Vice Adm. William H. McRaven, commander of the Joint Special Operations Command and task force commander forward at the time of the mission, recounted during his remarks at the ceremony.
Without much intelligence on the target or knowledge of the decree of the enemy threat, the three helicopter crews of 160th SOAR quickly developed a plan and took flight. To their surprise, they came under intensive enemy fire about five miles from the objective.
"I was thinking wow that's a lot of RPG's. I thought this is the craziest thing I've ever been on," said Peterson. "The sheer volume of fire that we took that night from the enemy, how prepared they were for us to come in there was surprising."
That night McRaven followed the fight intently over the radio, and could recall more than 50 RPGs being fired at the team forcing the crews to stray from the original plan and rapidly adapt to the increasingly hostile situation.
"The helos had to land right next to the objective. It was the only chance for success, the only chance for survival. In what was unquestionably heroic flying but more importantly incredibly skillful flying, all three crews set their helos down in a composed landing zone," McRaven said.
The crews landed only meters from their target, completed the objective and prepared for the intense flight back all the while remaining continuously engaged with the enemy.
"Our ability to get into such a heavily defended area and get out successfully surprised the heck out of me. It was pretty amazing overall," Peterson remarked.
Once they were out of harm's way the crews began to relax, but the comfort was short-lived as they received a call for support from the ground forces.
"Once we got that call to come back we were like, 'Wow we have to go do this again,' but we had to go get them, we put them in and we weren't going to leave anybody behind. So we just bumped fists and headed back out there. There was no question in my mind that we weren't coming out of it, but because of our gunners we are all here and we were successful," he added.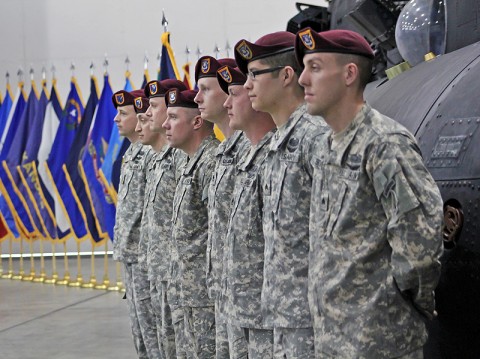 Now, two years after the event, McRaven sees it only fitting to recognize every member of the three crews. The Distinguished Flying Cross recognizes servicemembers whose exceptional acts of heroism, valor and achievement while engaged in aerial flight are above and beyond the call of duty and set them apart from others in like situations.
"I think that the Distinguished Flying Cross is the purist recognition of heroism in the service. It was clear to me that every Night Stalker who volunteered for this mission and fought in the crucible of that night warranted either a DFC or the Air Medal of Valor," said McRaven. "On (that night) there was no doubt that uncommon valor was a common virtue of (these men)."