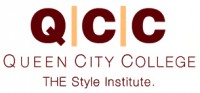 Clarksville, TN – Going to a spa is an experience that makes some people a bit leery. If you've never been to one, you don't quite know what to expect.
My European facial and hot stone back massage at Queen City College Esthetics (1594 Fort Campbell Boulevard) was the best relaxation I've had in a long time. Going to a spa is not something to stress over; it's something to look forward to!
Esthetic's  (or aesthetics) is a branch of science that deals with skin, the largest organ in the human body; it provides methods leading to health and well-being of skin for both men and women.
Services at Queen City College Esthetics include facials, make-up application, microdermabrasion, chemical peel, spray tanning, facial and body waxing, body wraps, hand and foot treatments, reflexology, scalp treatments, eyelash application, eyelash and brow tint, skin analysis, and body scrubs. All procedures are conducted by students. Prices range from $5.00 hair removal procedures to $60.00 microdermabrasion treatments.
The students who perform the work at Queen City are highly trained and are exceptionally good at what they do. Susan, my esthetics trainee, was thorough, professional, and personable; she made the entire two hours only the best of times. She carefully explained each part of the procedure and I felt pampered and comfortable every minute.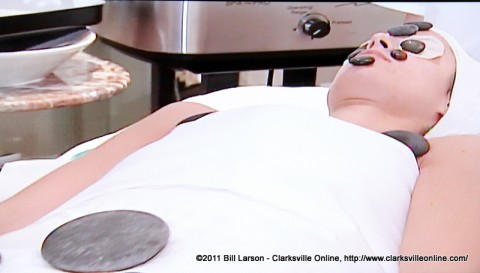 The first thing necessary when you enter the brand new 2,000 feet square addition to Queen City College is to sign in. The receptionist will ascertain what treatments you are getting and will assign a student to take care of you.
After being introduced to Susan, I changed into a strapless body wrap that connected in the back with Velcro.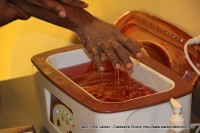 My initial procedure was a paraffin hand massage. Susan rubbed my hands and forearms with lotion and gently massaged them. Then I dipped my hands into a warm paraffin bath three times, after which she put plastic bags and towel mitts over them.
Then we went to a private treatment room where I lay face down on a massage table. My face was placed in a towel-covered ring so that I could breathe during the hot stone back massage. Then the relaxation began. Susan used all kinds of different lotions, toners, and cleansing agents before applying the hot stones. I didn't see the stones but I could occasionally hear them clicking together as she rubbed them across my back. I could feel the tension and stress melting away.
To put it mildly, the experience was fantastic—and one I plan to repeat whenever possible. At only $30.00 for the entire treatment, it's much less expensive than health problems that can result from too much stress in our lives.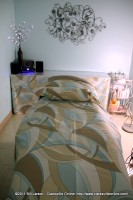 Then I lay on my back for the ($25.00) European facial. My hair was encased in a towel wrap to keep it from getting any of the lotions, etc. on it. Basically, the European facial is similar to the regular facial but each procedure—cleansing, toning, applying a mask, etc.—is performed twice in the European facial. The deep cleansing makes one's face appear smoother and feel more moisturized. It makes your skin healthier and more glowing.
I left the spa feeling ready to face the world in a much happier frame of mind.
Queen City College is owned by Ralph S. Payne, a 1962 graduate of Nashville Barber College. His wife Laura (chief administrator and educational coordinator) and he have owned and operated Queen City College for the last 26 years. Their daughter, Brandie King, serves as director. Admissions director is Linda Pickett (); financial aid director is Barbara Countryman ().
With both day and night classes, Queen City College training is eligible for Pell Grants, Veterans Administration educational benefits, and cash installment payments. Enrolling students may start classes on the first Tuesday of each month and choose a 30-, 35- or 40-hour week, or may work on a part time basis with individual counseling.
The services at extremely popular and Saturdays are busy times in the spa. Overall, most of the clients are women but some men are finding out that hot stone back treatments are not only relaxing but a well-needed stress reliever.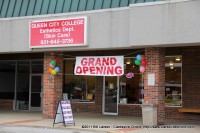 The college also offers some special classes for teens—Make-up 101, Let's Get Poppin' (how to properly pop a pimple to avoid scarring!), Princess Packages (a day at the spa), and Skin Cleansing Techniques.
If you are looking for a special way to pamper someone on Mother's Day, a birthday, or any day, sending her to the spa is the best present imaginable.
(Are you listening, dear husband?)
Photo Gallery