Clarksville, TN – On May 9th, 2011 at 1:20am, on the 41A Bypass near Queens Bluff, a Hyundai Elantra driven by Jason Hallman, 38, was traveling south on the 41 A Bypass, left the roadway, traveled over 200 feet, flipped multiple times, and came to rest back on the roadway. 
The passenger, John Spearman, 40, was ejected from the vehicle into the roadway. The driver sustained minor injuries and was treated at the scene.
The passenger was taken by ambulance to Gateway Medical Center and is currently in stable condition, but tests are still being run.
Hallman was charged with DUI; Bond $1,000. Officer Derrick Cronk is the lead investigator, 931-648-0656, ext 7237.
Jason Hallman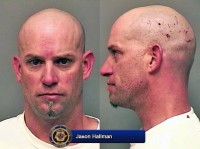 Name: Jason Hallman (W/M)
DOB: 9/12/72
Current Address: 2233 Tahiti Lane Alabaster, AL
Arresting Officer: Derrick Cronk
Charged With: DUI
Booked Into: Montgomery County Jail
Bond: $1000
Photos