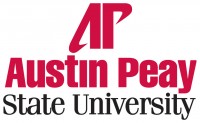 Clarksville, TN – Faculty, staff and students at Austin Peay State University recently achieved various accomplishments for various professional and scholarly work.
Mike Wilson, director of the GIS Center at APSU, and Doug Catellier, GIS analyst, showcased the center's Disaster Mitigation and Recovery Kit (DMARK) at the U.S. Department of Homeland Security Science and Technology Expo in Washington, D.C. They also met with various congressional aides as well as officials from FEMA and the Department of Homeland Security to discuss their project.
Dr. Robyn Hulsart, Dr. Victoria McCarthy and Michael Becraft, all faculty members in the department of professional studies, presented "Student Readiness as an Important Factor in Business Ethics Education: A Study of Business Students and Ethical Awareness" at the January 2011 Business & Economics Society International (B&ESI) Conference. McCarthy and Hulsart also presented "A Theoretical Model for Reducing Cheating in Online Management Courses" at the same conference. Both papers were included in the March 2011 Global Business & Economics Anthology. Becraft presented "Academic Continuity after Disasters, from an Academic Perspective" at the April 2011 Annual Meeting of the Southern Association of College and University Business Officers (SACUBO).
Dr. Jeffrey P. Rush, assistant professor of public management, appeared May 3rd on the "OpenLine" program on NewsChannel 5 Plus. He was joined by Dr. Carter F. Smith from Middle Tennessee State University, both of whom discussed gang violence in the region and the upcoming, second annual Ethnic Gangs Organized Crime Symposium, May 11th-13th at MTSU.
The APSU Department of Mathematics and Statistics has announced that students Casey McKnight, Robert French and Caleb Wherry have received an honorable mention designation in the Mathematical Contest in Modeling. More than 2,700 teams from 16 countries participated in the contest. Team coach is Dr. Raman Sahi. The team paper is on display on the third floor of Claxton Hall.