Clarksville, TN – As a result of assistance from the media, Stewart County Sheriffs Office, and U.S Forestry Service, a man has been charged with Leaving The Scene in conjunction with the death investigation.
On May 28th, around 2:30am, Michael Lee Bell  entered the Stewart County Sheriffs Office and indicated that he may have been involved in the hit and run with the female on Dover Road.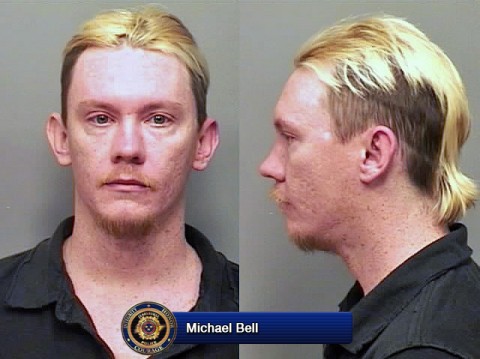 Clarksville officers headed to Stewart County to speak with Bell. In the meantime, Deputies located the GMC van at a Dover residence and officers from the U.S Forestry Service assisted in maintaining the crime scene. The van along with Bell were transported to Clarksville.
When Bell was interviewed, he said that he thought that he had struck a deer on Dover Road and proceeded back to his residence.  After seeing the media coverage, Bell made the decision that he may have been involved due to the vehicle description and that he had been traveling on Dover Road during that time frame.
Bell had indicated that he had consumed some alcohol, but at this point in time investigators have not determined whether it was a major factor in the collision. The parts which were recovered at the crash scene appear to be a match for the damage to the 93 Blue GMC Vandura van which Bell was operating. Additionally, a local tow company was instrumental in linking the vehicle parts to Bell's van.
Michael Bell
Name: Michael Lee Bell (W/M)
DOB: 9/26/76
Given Address: 105 Oak Street, Dover TN
Arresting Officer: Melissa Spielhagen
Charged With: Leaving The Scene
Booked Into: Montgomery County Jail
Bond: $50,000.
The investigation is ongoing and more charges may be pending.
Additional Information
The Clarksville Police Department has not received one tip which would help officers determine the identity of the deceased woman. This is a critical part of the investigation. Below are photos of the tattoos which are located on the right and left calve area. Also, there is a photo of the ring which the deceased woman was wearing.
Description: She is a white female, 5'10-6'0, 170-180 lbs, blond hair, and green eyes. She had a tattoo on her left leg with the initials AJR and a tattoo on the right leg with the initials RJW. She was wearing blue jeans, a white halter top with a black tube top underneath. She was wearing sandals which had a strap that ran high on the leg. She was wearing a unique looking pewter peacock ring which was very detailed.  She was also wearing a string necklace with a clear plastic heart with a silver cross in the center.
Please contact the TIPSLINE if you have any information, 931-645-8477.
For more on the story, see: