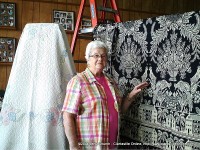 Guthrie, KY – As a part of its annual Heritage Days celebration, the town of Guthrie Kentucky staged a wonderful quilt show that was held at the Guthrie Senior Citizen Center; the show is always my favorite part of the Guthrie Heritage Days.  I have attended this show for several years and always discover and something or someone, that is new and interesting.
I was greeted when I arrived at the door by Helen Bellar who is the coordinator for the show.  She was delighted to show me a special exhibit by Doris Kelly's Art III class from Todd Central High School. Students Cassie Hanners and Terese Rudder had created a quilt block which had won a First Prize and now resides in the Quilt Museum in Paducah. This is quite an accomplishment for high school students and is sure to be envied by many adult quilters.
Just inside the front entrance, Evelyn Caldwell and Vicky Poindexter were selling chances to win a quilt and pillows set made by the Town and Country Homemakers. The raffle drawing will be held on July 2 during the Trenton, KY Heritage celebration.  I couldn't resist dropping my name in the box for a chance at such a beautifully constructed quilt set and pillows.
One of the most striking displays this year were the Hooked Rugs by Louise Covington, who dropped in while I was there and graciously explained her rug hooking history.  Louise made her first rug in the 1970's, but put her rug hooks away until the 1980's when she revived her hobby and developed her techniques to a fine art.
She showed me a beautiful red area rug that had consumed over 3 years of her life to complete.  Louise says she now hooks at night when she is tired, since this is very restful for her.  Her nephew Bobby Paul Covington dropped in and let me know just how proud the family is of Louise's rugs. Louise' daughter also had a beautiful log cabin quilt on exhibit.
I was just in time to meet Melba Whitlow Smith, who is the owner of a 117 year old crazy quilt made by Nanny Ramsey. Smith told me she had rescued it from an attic. This was one of several embroidered crazy quilts which varied in age from over 100 years old to one made as recently as the 1960's by an 85 year old quilt maker.
The embroidery work is exquisite on these quilts, and makes it well worth the trip to Guthrie for anyone who appreciates the fine art of needlework.  Some of the quilts have been embossed with the initials of the quilter and the dates of their construction, which really helps with figuring out the history of the some of the quilts.
There were several male visitors to the show including Mark Clark from Clarksville who is a regional history expert, and some of the husbands seemed to be enjoying the quilt show just as much as their feminine companions.  However I think they would find the tractor parade on Saturday to be a bit more to their liking.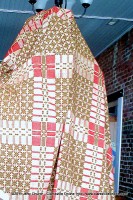 I wish I could have met Anneliza Lyon Vaughn who wove the Forty-nine Snowball coverlet in Wilson County during the 1860's.  This coverlet traveled to Missouri in 1912, and later to Arkansas in 1913 before it was returned to a granddaughter back in Tennessee.  The Threads are hand dyed using walnut and other natural dyes; the pattern is evenly and beautifully constructed.  The quilt was la prized possession that had been handed down over the generations from one family member to another.
There were so many quilts with names that area quilters will recognize including Double Wedding Rings, Yo-Yos, crazy quilts, cathedral windows, quadruple Irish chain, Texas Star. Nine patch, Tumbling Blocks, ChurnDash and a four-pointed strip-pieced star.  Also on exhibit was a wonderful Tobacco sack quilt made of 5-cent muslin sacks which had contained smoking tobacco, and was quilted in a tobacco leaf pattern.

If the quilting bug has bitten you, there was a display booth where quilt fabric "fat quarters" could be purchased.  Denise Shivers of the Quilt and Sew at Golden Threads, in Trenton, KY, was on hand demonstrating a fool-proof way of matching fabric designs.  I forced myself to resist the urge to purchase more fabric, knowing that I would soon be attending the Trenton, KY Heritage Day Quilt Show 2 short weeks (July 2) from now.  That Quilt Show will be just 2 doors down from Denise's shop.
Attending a quilt show is a wonderful way to spend a day. Guthrie Kentucky is just little way "up the road" from Clarksville, and there are a number of other stops in the area that promise to be great additions on your summer vacation agenda.
For some suggested stops in Guthrie Kentucky,  see Sue Culverhoue's story Four Guthrie Stops You Don't Want to Miss. In nearby Clarksville Tennessee,  you can start by checking out Beachaven Winery, The Customs House Museum, the brand new Fort Defiance Visitor's Center, The Roxy Regional Theatre, and of course Historic Downtown Clarksville.
Photo Gallery