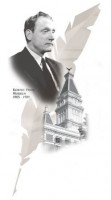 Amy Wright is multi-talented–a poet, nonfiction and flash fiction writer. She is author of two chapbooks, There Are No New Ways to Kill a Man and Farm. Her work also appears in a number of journals including American Letters & Commentary and Quarterly West, and is anthologized in The Southern Poetry Anthology, Volume III: Southern Appalachia.
She is the prose editor of APSU's Zone 3 Press and is an assistant professor of creative writing at APSU.
At the Clarksville Writers' Conference 2011, she began with a writing exercise. She asked her small audience to write down some song lyrics they liked, a quote you remember, prayers or religious quotes with meaning to that person, a bit of dialogue from movies, something overheard, lines of poetry, historical lines, and a question within a specified time limit.
Wright asked them to think of themselves as gatherers of words.
The central theme of her speech was "What is criticism and what has it been used for?" Her assertion was that we have a long continuum of assuming that we don't know our own worth. Adding that criticism can also mean "finding something wrong," she said that critics spend their time "analyzing and figuring out what does this mean?"
She reminded the audience that you can have bad authority and good authority.
"The history of criticism assumes that there are authorities who know more than we do," she said.
Wright said that to begin to criticize a work, "First, read the primary text. Then go to those who have studied this extensively."
As for "creative criticism," she said that during the 1970s and '80s, it was decided that it doesn't matter what the author intended to do. She insisted that "Critics are just translating for us. All of these people get between us and the text."
Wright then began definition of "a text." Most originally thought that a text is "a work," but in 1973, a Frenchman insisted that there's a difference in a text and a work. A work is something you can pick up; it is finite. A text is in conversation with other texts."
As members of the audience began to become completely confused, Amy said, "It throws the concept of literature into conflict. Where is the truth unless it is explained to us? This means an upheaval or crisis occurs in labeling."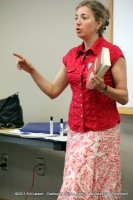 Wright said that she wants to "give my students more access to text. They don't need to go to a certain source. I give them authority to read the original text. Each of us has a specific filter that we are. In addition, if you believe you understand the text, you are not going to dig into it. Criticism of something you've been told can spawn more creative writing."
Amy then took another avenue. "Life is not fair" was told to me by my mother. You keep making your life like a grain of sand like in an oyster shell. You keep winding around it. It is explanation of me. Over the years, we've even added to Shakespeare.
"The most creative criticism is from working directly with the text."
She discussed in the next few minutes some ideas about Wallace Stevens and the poetry of Emily Dickinson to describe the potential that criticism has.
Amy Wright said she grew up on a farm and "we don't like to waste things."
"The Romantic is on the top of the mountain to get the divine message and bring it back to us. If we need to understand, we need to go to the mountain ourselves.
"Creative is a term first used by Emerson. Creation is like writing that comes together—copulation. You are generating something new from your writing.
"She'll Be Comin' Round the Mountain" is a song I carry around with me," Amy continued. "As she's coming around the mountain, we've always been waiting for her to come. Seedlings go into the children and let them sprout. I looked at this song a little closer. The modernists describe Waiting for Godot as knowing that he's not coming. In the song, we are just sitting there. We keep believing it. We forget we're still waiting. We are teaching patience."
Wright went on, "I'm most interested in creating action. I like lyric scholarship. Lots of terms are getting bandied about. We keep waiting on this woman to come. What can we do with this? What does she represent? What are the horses? She's supposed to be coming around the bend. What is being ridden upon?"
No definitive answer was forthcoming.
Amy then said, "The book is a work—a material thing—horse flesh. The text is Rocky Mountain fenceless pasture." She also described the text as trans-genre. Like Argentine pampas coming up through the Swiss Alps, it is boundless.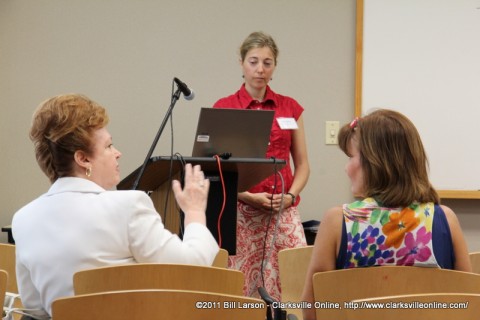 Wright said, "Of the types of writing—poetry, drama, fiction, essay– the essay is changing most right now. We have a crisis of the novel now because it is growing shorter with the Kindle readers, etc. This is not the end all, be all for a novel. It's not necessarily bad if something comes to take its place. It will change to fit us as we change."
She described the essay as not only a form of criticism. "It can be from a person who has had cancer. One writer experienced the tornadoes in Tuscaloosa. He wrote an essay in Brevity Magazine called 'Some Space.' The tornado in Tuscaloosa was compared to the tsunami in Japan. He talked about people calling afterwards to see if relatives and friends were still alive after the tornado.
"We are continually confronted with abyss, not necessarily nature. It is the unknown. It is anytime you confront something you do not know whether that is a poem or a tornado. One response is to write about it. You could paint it or write a song. You are attempting to make sense of it.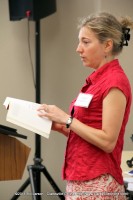 "I don't know how to process it. What does the tornado mean? It doesn't mean anything. You cannot trace it back to anything but it has thousands of different relationships. There is not only one meaning. The tsunami means this to my family or my son-in-law or the ambulance drivers or the doctors. I can make meaning and you can make meaning. It gives us the license we didn't have before."
Going back to the song ("She'll Be Comin' Round the Mountain"), the woman is riding six white horses. She is split. It is a crisis because that means we are split also. We are plural, not singular. The dream of psychological consistency is that we have to wake from our illusions. There is no one answer. Whatever theory you come up with can mean something else.
Wright continued, "We're losing some of our old ideas. It's disconcerting to have the ideas taken away. All the films made are evidence of creative criticism. Some newer ones are translations for our time. We breathe life into text by recreating it today."
Amy's thoughts turned to Virginia Woolf's essay where she quoted, "Human credulity is indeed wonderful." In Amy's translation, we hear, "We cannot believe what has been passed down to us." She discussed Virginia Woolf's criticism of Hemingway who was a contemporary. Woolf, when she compares Hemingway to de Maupassant, determines that his work looks poor. If he is compared to Chekhov, they look good. Woolf compares Hemingway's characters to real people and they are big fakers. They hide behind these masks and they are false. They question the concept of what it means to be real. Phonies were being examined by Hemingway. Wolfe didn't like them. Hemingway was examining the oddballs."
Segueing to Bob Dylan, Wright quoted, "You'd better start swimming or you'll sink like a stone."
Wright said, "If no one tells you how to react to something, you don't know. We go to the critics to understand. Then we say, 'Got it!' On the other hand, if you leave the door open, you can make meaning out of it."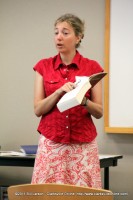 Wright concluded, "In literature, you have to have these people who are not like the rest. Fools and geniuses are those who don't fit in the group and have to be examined creatively. If it's not creative, it has no way to be new. We have to see if we understand it. Is it true?"
Author's note: Two people were discussing this speech after it ended. One said, "I was totally lost. I think this might have been a lecture from one of her classes or from a philosophy class." The other said, "I think most of us were wondering about what she meant at times. You have to remember that poets just aren't like the rest of us. Sometimes they live in the ether. I've heard that Amy came here from the University of Virginia. I have a friend who studied there. She said many of the faculty members appear to be from another planet, so I think she's used to speaking in a different realm of thinking. But to be fair, Amy is a young professor who is still struggling with the cardinal rule of teaching, 'You start where your students are and bring them to your level; you can't start at your end of the spectrum.'"