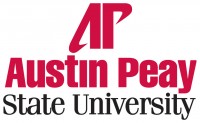 Clarksville, TN – This fall, female students looking to go Greek at Austin Peay State University will have a new social sorority to consider joining.
Alpha Gamma Delta will colonize in the fall, after the Panhellenic Council (representatives from member sororities on campus) at APSU voted during the spring semester to invite the organization to join the campus Greek system.
"We are thrilled that Alpha Gamma Delta will be joining our fraternity and sorority system," said Brianna Lombardozzi, coordinator of fraternities and sororities at APSU. "We believe Alpha Gamma Delta will make a wonderful addition to our growing community."
Three other sororities were invited to campus for extension presentations, including Kappa Delta, Alpha Chi Omega and Alpha Omicron Pi.
Alpha Gamma Delta, founded in 1904 at Syracuse University in New York, has 185 chapters on campuses in the U.S. and Canada, with total membership exceeding 155,000 sisters.
Currently, APSU has three other National Panhellenic Council (NPC) sororities on campus: Alpha Delta Pi, Alpha Sigma Alpha and Chi Omega. Total Greek membership among all sororities and fraternities is 469 students, based on figures from this past spring.
Lombardozzi said if there is a significant increase in Greek membership or the University demonstrates continued growth, a second sorority could be invited to colonize at APSU in Fall 2014. The APSU Panhellenic Council already has voted to extend a bid to Alpha Omicron Pi, which has accepted.
For more information about Greek-letter organizations at APSU, notify the Office of Fraternity and Sorority Affairs, 931.221.6570, or visit online at www.apsu.edu/greek-life. In addition, find APSU Fraternity and Sorority Affairs on Facebook or follow on Twitter.