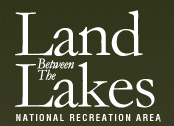 Golden Pond, KY – Saturday, September 24th, Land Between The Lakes (LBL) National Recreation Area will be waiving fees at participating day-use facilities in honor of National Public Lands Day (NPLD).
General admission to The Homeplace (HP), Woodlands Nature Station (NS), Elk & Bison Prairie, and the Golden Pond Planetarium (GPP) show at 1:00pm will be free.  Wranglers Campground will also be waiving day-use riding fees.
NPLD, a program of the National Environmental Education Foundation, supports the goals of First Lady Michelle Obama's Let's Move Outside initiative by offering activities at sites around the country to reconnect Americans to the outdoors and encourage family recreation.
LBL will join other National Forests and National Parks across the United States in participating in our nation's largest one-day volunteer event for public lands.  There will be opportunities for volunteers to participate in a shoreline clean-up or a trail maintenance project.
It is recommended, but not necessary, to call to register for volunteer work early. Registrations should be made by September 23rd, especially larger groups. There will be two events taking place that day.  The first event is from 8:30am-3:30pm:  a trail project on the Fort Henry Trail, meeting at South Welcome. The second event is from 8:00am-12:00pm:  a hike/canoe/kayak shoreline cleanup at Honker Dam.  Volunteers should bring lunch, a water bottle, and dress for outdoor work. For more information on these projects, check out www.friendsoflbl.org or call 270.924.2007.
"Helping Hands for America's Lands is the 2011 theme for National Public Lands, this is an inspiring way to celebrate public lands and give back to your favorite places," said Emily Schmadeke, Volunteer Coordinator for "Friends of LBL." "We appreciate our awesome volunteers who donate their time throughout the year to make LBL a cleaner, safer, and more enjoyable place for everyone."
"This is a great opportunity for families, and especially groups, who want to demonstrate their appreciation for the environment," said John Rufli, "Friends of LBL" Executive Director. "It's a great tradition to start for families or groups that gives you the satisfaction of making a contribution to your community."
About Land Between The Lakes
Land Between The Lakes is managed by the Forest Service, U.S. Department of Agriculture, in partnership with "Friends of LBL," to provide public lands outdoor recreation and environmental education.  We encourage visitors to review our website at www.lbl.org each season, and throughout the season, for our Calendar of Events, updates on programs and policies, safety information, maps, and temporary trail and road closures.
Follow us on Twitter @LBLScreechOwl and on our blog at http://landbetweenthelakes.blogspot.com/. Additional LBL and "Friends of LBL" information is also available on our website or by calling 1.800.LBL.7077 or 270.924.2000.