Clarksville, TN – Col. Ted A. Crozier, Sr. U.S. Army Ret. has long been  a presence in our community. He first made his mark on the area during his service with the 101st Airborne Division at Fort Campbell where he helped shape the future of Army Aviation; and later serving as the Mayor of Clarksville, TN he set our city on a path that ensured strong growth for many years to come.
Since retiring Crozier has continued to be a driving force working to ensure that the needs of the 101st Airborne Division are met, and that the City of Clarksville, TN continues to be a good neighbor and supporter of the Military.
He was recognized for his life of service in a ceremony at the Kiwanis Club Luncheon on Tuesday.
Crozier along with Robert Jones and Art Lombardi both of whom are now deceased, are receiving a special dedication for their lifetime of service in the forthcoming Faces of Valor Volume 2. the three were collectively known as 101 Mafia for their dedication in promoting the 101st Airborne Division and the Clarksville-Montgomery County Area. The Faces of Valor book will feature photos of 387 veterans from the Clarksville area and honors the members of our armed forces who ensured and continued to ensure our freedom with their service and sacrifice.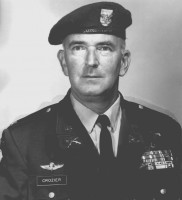 Colonel Ted A. Crozier U.S. Army Ret. was born in Meriden, Connecticut. He graduated from Officer Candidate School, Fort Benning, Georgia, in 1946 as a Second Lieutenant of Infantry. His academic education includes a Bachelor of Science in History, Austin Peay State University, and attendance at The Citadel Military College. Colonel Crozier's military education includes completion of United States Army Command and General Staff College, Armed Forces Staff College and United States Army War College.
Prior to assuming duties as Chief of Staff, 101st Airborne Division (Air Assault), His key assignments were Commander, 101st Aviation Battalion, Fort Campbell; Chief of Aviation Plans, Office, Chief of Operations, Headquarters USAREUR; Commander, 39th Infantry Battalion (Mech), 8th Infantry (Mech) Division, USAREUR; Army Representative, Office, Assistant Chief of Staff, Force Development on Joint Study Intra Theatre Transportation Requirements, Washington, DC; Commander 101st Aviation Group and Aviation Officer, 101st Airborne Division, Vietnam; Secretary, United States Army Aviation School, Hunter Army Airfield, Georgia; Commander, Support Brigade and Deputy Post Commander, Hunter Army Airfield, Georgia; Chief, Plans, Organization and Programs Aviation Director, Office, Assistant Chief of Staff, Force Development, Washington, DC; Director, Army Close Air Support Study, Department of Defense, Washington, DC; and Chief, Aviation Warrant Officer Branch, Officer Personnel Directorate, Washington, DC.
Colonel Crozier's awards and decorations include the Legion of Merit with one Oak Leaf Cluster; Distinguished Flying Cross with two Oak Leaf Clusters; Bronze Star Medal; Meritorious Service Medal; Army Commendation Medal with two Oak Leaf Clusters; Combat Infantry Badge; Master Parachutist Badge; Pathfinder Badge; and Senior Army Aviator Badge.
After retiring from the Army, Crozier served as the Mayor of Clarksville Tennessee from 1978 to 1986 where he set the course of the city for many years to come.
"He got things done," said Memories of Service & Sacrifice Committee Chairman Ron Smithfield, "He was a change agent. He brought in ideas from other communities. Gradually people started believing that Clarksville could improve."
During his service as Mayor, Crozier set a goal of enacting 20 improvements per year. Among his accomplishments, he  oversaw the widening of 41A through New Providence; improved traffic flow throughout Clarksville; paved streets and improved the appearance of the city; setup a Mayor's hot-line to receive reports of problems from residents; streamlined the budget process; started the annual Oktoberfest festival; purchased and preserved the Smith Trahern Mansion; started construction of the Riverwalk; helped increase the number of Fort Campbell retirees who retired in Clarksville, retirees now account for 1.4 billion per year to the local economy; and annexed St. Bethlehem.
In 1989 he was inducted into the Army Aviation Hall of Fame. He has also been inducted into the Army Infantry Hall of Fame.
Smithfield said "If I had to put Ted into one word it would be visionary. He is always coming up with new ideas and new things to do for this community. He's made a huge difference not only for the military, but for the Kiwanis Memories of Service & Sacrifice Committee, and our community." Afterwards he introduced Tom Crozier, Ted Crozier's son.
"There's no better way than to honor him today than to include him with two individuals for whom he has the greatest respect for, they are Col Art Lombardi and Bob Jones." said Tom Crozier, "He continually pushes the positive aspects of our military and the men and women who serve our country. I don't know of anyone who has been more dedicated to the military on a daily basis as my dad. He has certainly set the example in that area. It's hard in my mind to distinguish between the passion and love he has for the military and specifically the 101st, and that which he has for the City of Clarksville and Montgomery County. I think he is a tremendous ambassador for this area. That's one reason why he still remains so active out at Fort Campbell, as well as in the local community. I want to thank all of your in the Kiwanis for honoring these threee dedicated soldiers today." then speaking for himself and his siblings who were on hand to witness their fathers recognition, "I can speak for the entire family Dad, we are all proud of you."
He then went over and hugged his father.
Ted Crozier's speech focused on the need for area businesses to visibly show their support for Fort Campbell and the U.S. Army by becoming a Corporate Member of the Association of the U.S. Army (AUSA), and by lobbying their elected representatives to ensure that the needs of Fort Campbell and the Army as a whole are met.
After he was introduced, Ted Crozier stood for a moment, looked at his watch, said "Thank you," and made as if to sit back down. The Audience laughed as they all knew better. After a moment he got up and headed to the podium. "What a shock Ladies and Gentlemen," he said. "I am really shocked." After speaking for a few moments, Crozier quickly moved to the subject he is really passionate about, really showing your support for the military.
My concern if I may just take a few minutes here, my concern is what you just saw on the pictures over there. Bob Jones, Art Lombardi; we were the 101 mafia according to Dave Petraeus. I am also concerned here with what is going to happen in the future, when some of us depart this world. I would hate to see things start all over again, as it was with Bob Jones, and Art Lombardi. Incidentally Art Lombardi used to say the unit he went into Korea with Task Force Smith was the worst trained unit, didn't have the organization properly tasked and trained, didn't have the ammunition, and it was really really bad. Ladies and Gentlemen we don't need to get back into that.

The unit we see out here at Fort Campbell, and I say that for all of the units we have in our armed forces is the best trained unit I have ever seen, but I bet that I could challenge everyone here to tell me about the organization of that Division. Specifically it is the most powerful division in the world. It is the largest division in the world. It is the most potent division in the world. It's an air assault division. Thirty something thousand total; that's the division and the rest of the units at Fort Campbell. It has two aviation brigades, the only division in the world with two aviation brigades, And they are good. In addition to that they have the 160th Special Ops, they are the best you can find anywhere. Of course the division keeps feeding them with outstanding aviators from the division.

My point is everyone in the army today wants to have aviation. I am talking about the lift capacity, the gunship capacity because it is so meaningful and so quick. Things that occurred in Korea as an example. We would have loved to have had aviation. We did but it was just medevac, little light helicopters.

My point here for the Kiwanis, we need your help in the community. We need you to understand the organization of the division. We need you to support, and Ron mentioned a minute ago there's Jack Turner and all of the VIPs in the area and Fort Campbell in Washington, DC for the Convention for the Association of the United States Army. My point that I am making here is that we need to know how this is organized at Fort Campbell from the standpoint that we can go to our U.S. Representatives, of which we have 9 in the State of Tennessee, and hopefully we will have all 9 of these to be corporate members of the Association of the U.S. Army.

Ted Crozier, Sr. giving his remarks

Going back to 1975 Art Lombardi and I, We would go to a 7:00am meeting every morning at Fort Campbell with the Command Group. This one time we said "We don't look very good General in Washington, DC". What do you mean by that he said. Well we only have 26 corporate AUSA members, and that doesn't make us look very good.

Art and I had both served with the 82nd Airborne division and we knew that they won every year. So that became our challenge, lets beat the 82nd and Fort Bragg. Fort Bragg being a two Division post. Of Which we did. We went from 26 corporate members to 573. And we beat everyone all over the world with that number.

Having said that we have gone down hill since that time. Today we have 286 Corporate members. My point in mentioning this is that doesn't make us look very good. Who's ahead and what's the secret. Huntsville, each year either wins it or comes to be the second place. The other is central texas which is the Fort Hood Area.

Basically I am saying we need to get our Corporate AUSA membership up.

Now, Ron touched on the retirees in the area. The reason why we worked on retirees is that we had a poor economic time in 1979-80-81-82 with the interest rates that we had, the inflation rates that we had, the unemployment rates that we had. So I was looking for things, that is why I grabbed on this thing, lets make Clarksville a place that we can bring in retirees.

The number from Fort Campbell is unbelievable, let me give you one example of this. That is Mac Eddington. Here is Mac Eddington with the dental area he has out there with six retirees in that organization. So they are all retired, and I am assuming that they may be on social security. Here is Linda, Mrs Eddington with a great eating establishment in St. Bethlehem, then we have one son who has the furniture store, and another son with the Pinacle. That's pretty good for one family.

My point again to stay on this corporate membership is the person who is in charge is in Washington, DC is Bob Hoffman, and the person who is in charge Tennessee is Karen Stanley. Karen Stanley is the Executive Secretary to the commander at Fort Campbell.

Why do I mention this, why do I feel the importance of this? Because when we won, Fort Campbell won with 573 Corporate members. The Chief of Staff of the Army flew in here and awarded the City of Clarksville stating that this was "The Best Military Community in Support of a Military Installation in the World".

As a consequence, to show you that this didn't have anything to do with the White House, or our legislators. The Chief of the Staff of the Army moved the 5th Special Forces Group from Fort Bragg to Clarksville and Fort Campbell. Since then they have increased two battalions, so this has been really meaningful to the economy.

Now, I have read into the paper where Hemlock, when they have full employment the 500 will put into the economy $50,000,000 a year in pay, gosh that is absolutely outstanding and I am all for Hemlock. I think thats great.

But when you consider what the 3% pay raise for the retirees and active duty at Fort Campbell take a guess what that was worth; don't guess $90,000,000. So you can see that if we build on this, it's going to really be meaningful.

However, like the Chief of Staff of the Army turned around and picked up the 5th Special Forces Group from Fort Bragg and moved them over here, those two aviation brigades makes us vulnerable under the Base Closure and Realignment Commission (BRAC) situation. Which means that Congress has nothing to say about the decision of the BRAC committee, once they make the decision Congress either accepts it or turns the whole thing down.

Well the importance again, AUSA. I bet we have 150 Attorney's in Clarksville Judge is that pretty close to it? More than that he responded.

Corporate membership, $150 has two representatives.

My point in mentioning this to the Kiwanians is that you need to be involved at Fort Campbell, with the people at Fort Campbell, with the aviation people at Fort Campbell. And help people retire here…
Video
Photo Gallery