APSU Sports Information: APSU Golf

Clarksville, TN – After a near two-week break, Austin Peay State University women's golf team will return to action, Monday and Tuesday, in the Memphis Fall Invitational, to be played at the Ridgeway Country Club.
The 54-hole event-36 holes on Monday and 18 on Tuesday-will be played on the par-71, 6,150-yard layout.
The Lady Govs will be the only Ohio Valley Conference participant in the impressive 13-team field. In addition to host Memphis, Boise State, Butler, UTPA, Central Arkansas, Montana, Xavier, Sam Houston State, Samford, Texas A&M Corpus Christi, UAB and Division II power Rollins (FL) will be participating.
The Lady Govs are coming off a fourth-place finish in their own tournament, the F&M Bank APSU Intercollegiate.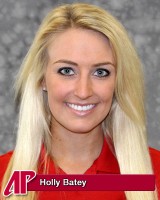 APSU tied a school record low with a 300 on the first day. Sophomore Rachel Deaton finished fifth in the tournament while junior Holly Batey was tied for first after the opening day with her first career under-par score (71).
Batey, Deaton, senior Ashley Averitt, junior Lauren Bond and sophomore Tabitha Beard will comprise the five-member Lady Govs team while sophomore Tala Mumford will compete as an individual.
"Ridgeway is a good test of the girls' talents and abilities," APSU coach Sara Robson said. "We have to go out and hit one shot at a time.  We can play any golf course if we block out the factors we cannot control and just focus on the target and shot at hand.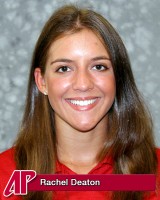 "We have had some solid performances this semester and we are looking to build on the confidence that we gained at our home event."
This is only the second tourney the Lady Govs have played this fall that will feature a 36-hole day, providing the APSU players a different challenge.
"The girls like playing 36 holes and having a chance to better themselves on the second round," Robson said.  "We, however, need to get off to a good start and have a good first round.  I have said it many times, these girls are very talented and I think we are just seeing the beginning of great things to come from this team."