APSU Sports Information: Austin Peay Basketball

Clarksville, TN – Austin Peay State University women's basketball team could not slow nationally-ranked Vanderbilt, dropping an 83-51 non-conference tilt, Wednesday night at the Dunn Center.
Austin Peay (2-4) kept the game close in the opening seven minutes and trailed by only three points, 10-7, after sophomore Meghan Bussabarger made a pair of free throws. However, the Lady Govs could not maintain their early momentum and made only two of their next 13 shots.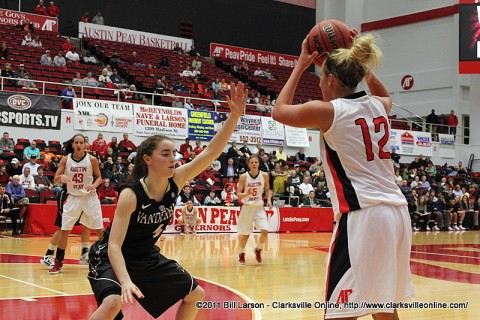 No. 25/22 Vanderbilt (7-0), which entered the game shooting nearly 50 percent from the field, found its shooting stroke while Austin Peay struggled. The Commodores made 8-of-12 attempts from the field over the next eight minutes as part of a 21-4 run that broke the game open with VU leading 31-11 with 5:40 left. Vanderbilt made 50 percent (15-of-30) of its first half shots and took a 22-point, 43-21 lead into halftime.
The Lady Govs shooting warmed only marginally in the second half, converting 37 percent of their shots (10-of-37). Vanderbilt kept the pressure on, making 45.2 percent (14-of-31) as its lead reached 30 points seven minutes into the second half.
Junior Leslie Martinez led the Lady Govs with her season's first double-double, scoring 10 points and grabbing 11 rebounds. Sophomore Shyra Brown added a career-high 13 points. Both Martinez and Brown led a bench effort that scored 30 of the Lady Govs 51 points. Austin Peay's starting five – led by senior Whitney Hanley's eight points – was held to 21 points and made only 19.3 percent (6-of-31) of its field goals.
Vanderbilt's Christina Foggie led all scorers with a career-high 25-point effort. Stephanie Holzer added 15 points and eight rebounds.
The Copies in a Flash APSU Player of the Game was Leslie Martinez.
Austin Peay completes its two-game homestand with a 7:00pm, Saturday contest against UAB.
Video Highlights
Photo Gallery
Postgame Notes
The starting five for the Lady Govs (Bussabarger, Rayner, Strainback, N.Olszewski, and Hanley) combined to score just 21 points on 6-of-31 shooting from the field.
Shyra Brown came off the bench to score a team-high and career-high 13 points (5-9 shooting), she also added four steals and five rebounds.
Leslie Martinez recorded her first double-double as a Lady Gov grabbing 11 rebounds and scoring 10 points. Her 11 rebounds were a season-high for a Lady Gov.
The Lady Govs were active on the defensive perimeter grabbing 10 steals in the game, but turned the ball over 22 times (14 coming from Vanderbilt steals).
The Lady Govs bench led by Brown (13) and Martinez(10) outscored the Lady Commodores bench 30-23 in the contest, the Lady Govs bench also out-scored their own starting five 30-21.
Vanderbilt recorded season-highs in points (83), field goals made (29), free-throws made (19), and steals (14) for Lady Govs opponents.
Austin Peay recorded season-lows in points (51), field goals made (18), and field goal percentage (.300 on 18-60 shooting).
Austin Peay coach Carrie Daniels is now 0-2 vs. Vanderbilt. Vandy leads the all-time series 14-2.
It was Austin Peay's second loss this season to a nationally-ranked team (Louisville). Austin Peay is 2-25 all-time against ranked teams, and 0-10 under Daniels.
Head coach Carrie Daniels Quotes
"We knew what it was coming into the game. Vandy is a tremendous team, very disciplined, very balanced, and we knew transition defense was going to be a key for us coming into the ballgame. But with that transition defense, with us knowing that they like to run the ball, they also have tremendous shooters. You have to get back on defense and you have to get out and be able to contest the shooter."
"I don't think we were ready out of the gate. We weren't ready to play right from the tip. They get the ball and score on us. We weren't down in a stance for forty minutes. I think that when we got shots we got some open looks, but from those open looks, we were worried about the defense. It wasn't us focusing on the basket and the shot. We were worried about Vanderbilt."
"I was very pleased. Leslie came in and really gave us a spark in the first half. For her to come in and get a double-double on the offensive glass, to get the second-chance look – it was tremendous for her. Shyra Brown, as well, did a good job for us to go up against the big girls in the post. Obviously, there were times that they got their position down low, but she did a good job of getting around, getting her hand on some passes, knocking it loose. (Shyra and Leslie) gave us great energy."
Box Score
Austin Peay vs Vanderbilt
11/30/11 – 7:00pm at Dunn Center, Clarksville, TN
Austin Peay 51
Austin Peay
MIN
FGM-A
3PM- A
FTM- A
REB
OREB
AST
PF
ST
TO
BLK
PTS
Meghan Bussabarger
19
0-3
0-1
4-4
2
1
0
2
0
3
0
4
Jasmine Rayner
9
0-3
0-0
1-2
3
0
0
2
0
2
0
1
Kristen Stainback
37
2-9
2-6
0-0
4
0
0
1
1
2
1
6
Whitney Hanley
29
3-10
2-5
0-0
4
1
3
3
1
3
0
8
Nicole Olszewski
19
1-6
0-3
0-0
2
0
2
2
0
4
0
2
Shyra Brown
23
5-9
0-0
3-4
5
1
1
4
4
3
0
13
Leslie Martinez
23
4-10
2-3
0-0
11
5
2
1
2
2
0
10
Shira Buley
17
2-6
0-0
0-0
2
2
1
1
2
1
0
4
Shelby Olszewski
17
1-3
0-2
0-0
2
1
1
3
0
1
0
2
Kaitlyn Hill
7
0-1
0-0
1-2
0
0
0
3
0
0
0
1
Total
 
18-60
6-20
9-12
39
15
10
22
10
22
1
51
 
 
30.00%
30.00%
75.00%
 Vanderbilt 83
| | | | | | | | | | | | | |
| --- | --- | --- | --- | --- | --- | --- | --- | --- | --- | --- | --- | --- |
| Vanderbilt | MIN | FGM-A | 3PM- A | FTM- A | REB | OREB | AST | PF | ST | TO | BLK | PTS |
| Elan Brown | 20 | 1-3 | 0-0 | 1-2 | 4 | 2 | 2 | 3 | 3 | 0 | 0 | 3 |
| Stephanie Holzer | 21 | 6-10 | 0-0 | 3-4 | 8 | 2 | 0 | 1 | 2 | 2 | 1 | 15 |
| Kady Schrann | 32 | 5-9 | 1-2 | 0-0 | 1 | 0 | 1 | 2 | 0 | 0 | 0 | 11 |
| Christina Foggie | 30 | 7-13 | 3-8 | 8-8 | 4 | 1 | 5 | 2 | 3 | 1 | 1 | 25 |
| Jasmine Lister | 29 | 2-10 | 2-5 | 0-0 | 1 | 0 | 5 | 0 | 1 | 2 | 0 | 6 |
| Maggie Morrison | 23 | 0-4 | 0-2 | 0-0 | 1 | 0 | 3 | 0 | 1 | 0 | 0 | 0 |
| Tiffany Clarke | 16 | 4-5 | 0-0 | 0-3 | 10 | 2 | 0 | 1 | 1 | 1 | 1 | 8 |
| Jordan Coleman | 15 | 3-4 | 0-0 | 7-8 | 5 | 2 | 0 | 2 | 1 | 3 | 0 | 13 |
| Clair Watkins | 13 | 1-3 | 0-0 | 0-0 | 4 | 1 | 1 | 1 | 2 | 2 | 2 | 2 |
| Nadine Ndip | 1 | 0-0 | 0-0 | 0-0 | 0 | 0 | 0 | 0 | 0 | 0 | 0 | 0 |
| Total |   | 29-61 | 6-17 | 19-25 | 41 | 12 | 17 | 12 | 14 | 12 | 5 | 83 |
|   |   | 47.50% | 35.30% | 76.00% |   |   |   |   |   |   |   |   |