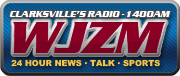 Clarksville, TN – A brand new sports-talk show, focusing on Clarksville area sports is set to debut Monday afternoon, exclusively on WJZM 1400 AM, and WJZM.COM.  "From the Sideline" with James Horne and Wade Neely will air weekdays, 3:00pm-6:00pm on Clarksville's only news-talk-sports radio station, part of the new Clarksville Sports Network.
"We saw a great opportunity to provide Clarksville with the most extensive coverage of area sports with the Clarksville Sports Network" said Hank Bonecutter, president of Cumberland Radio Partners, and owner of WJZM. "We will have a daily talk show, a new website, at www.clarksvillesportsnetwork.com, photos, videos and more in 2012. James and Wade, along with photo-journalist Cidnie Brewington will have non-stop coverage of the Clarksville/Fort Campbell sports scene" said Bonecutter."
"From the Sideline" provides a daily forum that Clarksville has been lacking, for credible and accurate coverage of the local sports scene.  "I can't wait to get started" said Horne.  "I've always wanted to do a full time radio show, and this is where I can put my journalistic skills to the test."
"This is the most awesome opportunity I've had in my career so far" said Neely.  "James and I just hit it off from the start, and I think we're going to have a great time," Neely said.
The Clarksville Sports Network includes, WJZM, Clarksville Online, Discover Clarksville, Facebook and Twitter, and at the website, www.clarksvillesportsnetwork.com.
"Wherever you are, you will be able to follow your favorite local sports, with the Clarksville Sports Network" said Bonecutter.  "We are plugged into every possible outlet we can provide, to do what Clarksville expects us to do, and we look forward to the challenge."
"The Clarksville Sports Network sets a new standard for sports coverage in our community," said Bill Larson; the creator of Clarksville Online. "The team of people Hank Bonecutter has put together can make sports fun and interesting even for people like myself who do not currently follow sports to begin with."
For more information about "From the Sideline", listen to 1400 WJZM, follow Clarksville Online, and look for them on Facebook and Twitter.  "From the Sideline" makes it's debut, Monday, January 2nd, 2012 at 3:00pm.