APSU Sports: Austin Peay Men's Basketball

Charleston, IL – TyShwan Edmondson scored 24 points and Austin Peay State University men's basketball team won its fifth consecutive game – a 76-64 Ohio Valley Conference victory against Eastern Illinois, Saturday night at Lantz Arena.
Austin Peay (8-13, 5-3 OVC) led for the final 35-plus minutes after a Jerome Clyburn basket giving it an 8-7 lead with 15:50 remaining. The Govs solidified their lead minutes later with a 13-6 run as Edmondson hit three of his four three pointers – the last of the trio giving APSU a 10-point, 29-19, advantage with 7:10 left.
The Govs lead would reach 13 points after a Justin Blake three-pointer at the 4:21 mark. However, Eastern Illinois (9-9, 2-4 OVC) closed the frame with an 11-4 run including a pair of L.C. Doss three pointers. The Govs stemmed the run just before the break on a Chris Freeman tip-in and led by six, 38-28, at halftime.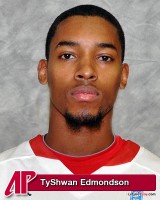 Eastern Illinois made one final sustained charge out of the halftime break – an 11-6 run that cut the lead to five points, 44-39, with 17:19 left. Melvin Baker scored the next four points to stop the Panthers run and Austin Peay was not threatened the game's remainder. The Govs converted 11 of their 14 free throws in the final three minutes to seal the win.
Edmondson made 9-of-18 from the floor, including 4-of-7 from the three-point line. In addition to his 24 points he had four steals in a complete 40-minute outing.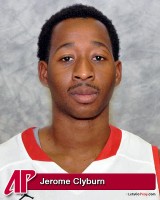 Jerome Clyburn added 18 points, courtesy a 12-of-14 effort at the free-throw line. Josh Terry finished with 11 points, six rebounds and five steals. Melvin Baker chipped in 10 points, including eight second-half tallies.
Alfonzo McKinnie led Eastern Illinois with 15 points and 14 rebounds, including nine offensive grabs. Jeremy Granger added 14 points.
The Copies in a Flash APSU Player of the Game was TyShwan Edmondson.
Box Score
Austin Peay vs Eastern Illinois
01/21/12 – 6:15pm at Lantz Arena (Charleston, IL)
Austin Peay 76
Total
3-point
Rebounds
##
Player
p
fgm-fga
fgm-fga
ftm-fta
off-def
tot
pf
tp
a
to
blk
stl
min

20

BAKER, Melvin

f

4-9

0-0

2-2

1-3

4

5

10

0

1

0

0

21

23

TERRY, Josh

f

3-9

0-0

5-9

3-3

6

3

11

1

4

1

5

33

21

FRALEY, John

c

2-4

0-0

0-2

1-4

5

3

4

1

2

0

0

23

01

CLYBURN, Jerome

g

3-3

0-0

12-14

1-0

1

0

18

3

0

0

0

26

12

EDMONDSON, TyShwan

g

9-18

4-7

2-2

0-1

1

1

24

1

2

0

4

40

10

TRIGGS, Will

–

1-2

0-0

0-0

0-3

3

0

2

2

0

1

0

23

15

FREEMAN, Chris

–

2-3

0-0

0-0

3-2

5

0

4

1

0

0

1

12

22

LAWRENCE, Herdie

–

0-2

0-2

0-0

0-1

1

0

0

1

0

0

0

5

32

BLAKE, Justin

–

1-4

1-4

0-0

0-3

3

1

3

0

2

0

0

17

TM

TEAM

–

–

–

–

1-0

1

–

–

–

–

–

–

–

Totals…………..

–

25-54

5-13

21-29

10-20

30

13

76

10

11

2

10

200

46.3%

38.5%

72.4%

Team summary:
FG
3FG
FT
1st Half:

15-33

4-10

4-5

45.5%

40.0%

80.0%

2nd Half:

10-21

1-3

17-24

47.6%

33.3%

70.8%
Eastern Illinois 64
Total
3-point
Rebounds
##
Player
p
fgm-fga
fgm-fga
ftm-fta
off-def
tot
pf
tp
a
to
blk
stl
min

10

McKINNIE, Alfonzo

f

6-9

0-0

3-4

9-5

14

3

15

0

0

0

0

30

34

SANDERS, Zavier

f

0-3

0-0

0-0

0-3

3

3

0

1

2

0

0

13

04

MILLER, Joey

g

1-10

0-2

0-0

0-3

3

5

2

2

4

0

3

26

12

GRANGER, Jeremy

g

6-15

0-2

2-2

1-4

5

3

14

2

2

0

0

31

23

DOSS, L.C.

g

4-6

3-5

0-2

0-1

1

3

11

2

3

0

1

27

05

HERRON, Malcolm

–

1-4

0-1

0-0

0-1

1

1

2

1

0

0

0

16

15

HOLLOWELL, James

–

4-6

0-0

0-0

2-2

4

1

8

0

0

0

0

12

21

AKERS, Austin

–

0-0

0-0

0-0

0-0

0

0

0

1

0

0

0

6

22

JONES, Taylor

–

0-2

0-2

0-0

0-0

0

1

0

0

2

0

0

8

31

McFARLIN, Nick

–

1-2

0-0

0-0

0-1

1

2

2

0

0

0

0

8

32

MILLER, Jonathan

–

0-1

0-0

1-2

1-1

2

1

1

0

1

0

2

6

55

PIPER, Josh

–

3-3

1-1

2-2

0-2

2

0

9

2

2

0

1

17

TM

TEAM

–

–

–

–

2-2

4

–

–

–

–

–

–

–

Totals…………..

–

26-61

4-13

8-12

15-25

40

23

64

11

16

0

7

200

42.6%

30.8%

66.7%

Team summary:
FG
3FG
FT
1st Half:

13-26

3-7

3-4

50.0%

42.9%

75.0%

2nd Half:

13-35

1-6

5-8

37.1%

16.7%

62.5%
| | | | | |
| --- | --- | --- | --- | --- |
| Score by Periods | 1st | 2nd | Total | |
| Austin Peay | 38 | 38 | 76 | Record: (8-13 (5-3 OVC)) |
| Eastern Illinois | 32 | 32 | 64 | Record: (9-9 (2-4 OVC)) |

Officials: Kenneth Ballenger, Steven Honacki, Charles Russell
Technical fouls: Austin Peay-None. Eastern Illinois-None.
Attendance: 1326
Ohio Valley Conference contest … 36th meeting between Panthers & Governors