Clarksville, TN – Clarksville Police narrowly missed apprehending a man with multiple warrants and who is also a person of interest in the shots being fired at an Oak Grove officer.
On February 1st, 2012, around 8:45am, Police received information that Christopher Jerome Walker was in room 26 in the Mid-Towner Motel, 890 Kraft Street. Police surrounded the hotel and contacted Walker by phone in an effort to negotiate a voluntary surrender; he hung up on the officers.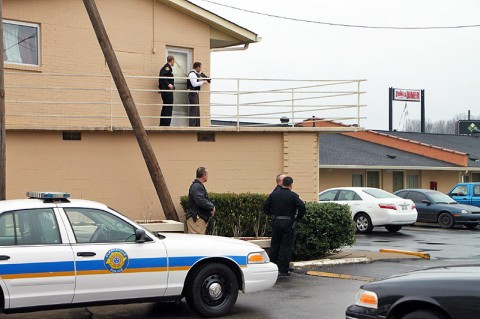 Shortly after officers arrived on scene, video footage was reviewed and it was determined Walker was able to flee minutes before Police were able to surround the hotel.
Christopher Walker
Christopher Jerome Walker (B/M, DOB: 10-30-85) has a Robbery Warrant on file out of Hopkinsville for the January 30th, 2012 armed robbery of AC Automotive. He is also a person of interest for the shots being fired at an Oak Grove officer after a pursuit on I-24 to the Kentucky/Tennessee line.
Walker has Four Warrants on file in Clarksville for:  Aggravated Assault, Aggravated Burglary and Two General Session Capias'. The Aggravated Assault warrant in Clarksville stemmed from Walker pointing a rifle and threatening a man on Summer Street in Clarksville.
Walker should be considered armed and dangerous. Anyone seeing Walker should call 911. Anyone with information can call the TIPSLINE, 931.645.8477.
Photo Gallery