Austin Peay Men's Baseball hosting Riverview Inn Classic
Friday-Sunday, March 2nd-4th, 2012
Clarksville, TN | Stadium: Raymond C. Hand Park (777

Clarksville, TN – Austin Peay Governors Baseball returns to action with a three-game homestand when it hosts the 2012 Riverview Inn Classic, Friday-Sunday, at Raymond C. Hand Park. The Govs will welcome Akron, Iowa and Youngstown State to the friendly confines for a three-day, six-game round-robin tournament.
Austin Peay is scheduled to play the 2:30pm contest each day with an 11:00am contest matching the tournament's other two teams.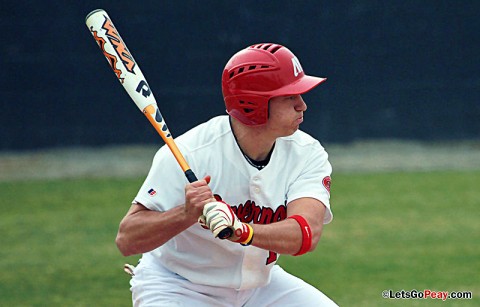 Austin Peay lost a three-game (1-2) series at Georgia State, last weekend – ending a streak of seven consecutive three-game series won dating back to last season. Senior designated hitter Jon Clinard led the Govs with 5 hits (.357 BA) at Georgia State while also batting in 4 runs.
Sophomore second baseman Jordan Hankins had a team-best 5 RBI in the series, including a 3-run double and a solo home run. Senior third baseman Greg Bachman had 4 hits, including his season's 3rd home run. After posting 9 hits in the opening weekend, junior shortstop Reed Harper was held without a hit (12 AB) at Georgia State and he is now batting .333 this season.
Senior first baseman Tyler Childress belted his season's first home run at GSU and finished with 3 RBI. Game 2 starter Ryan Quick allowed two runs over 6 innings but did not earn a decision for the 2nd consecutive week. Game 1 starter Zach Toney was tagged for 6 runs over 6 innings in his loss. Game 3 starter Casey Delgado struggled to shake off the rust of a nine-day layoff, allowing 6 runs over 3-plus innings in his loss. Closer Tyler Rogers notched his season's 3rd save in the Govs Game 2 win. Reliever Mike Hebert struck out 4 over 2 innings in Game 2 and was credited with the win.
Austin Peay was picked to finish first in the OVC's preseason poll. Four Governors were selected to the league's preseason team – Toney, Harper, senior outfielder Michael Blanchard and sophomore second baseman Jordan Hankins. ustin Peay returns 7 of its 8 defensive starters from last season.
Harper Nabs OVC Weekly Honor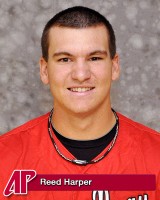 Junior shortstop Reed Harper opened the season batting .600 (9-15) with four runs scored, a double, home run and four RBI to earn the OVC's Player of the Week honor, February 20th. His biggest hit on opening weekend came in Game 3 of the series as he drove a walk-off home run to cap a 3-2 come-from-behind victory.
Earlier in the contest he drove in the game-tying run with an RBI single in the third inning. Harper opened the season with a 4-for-5 effort, Friday. In 16 total plate appearances he but the ball in play 15 times.
Govs At Raymond C. Hand Park
Since the 2000 season, Austin Peay has made the most of Raymond C. Hand Park's friendly confines, posting a 227-131 (.634) record at home. The 2011 season's 17-10 record was Austin Peay's 10th consecutive winning home season and 29th winning campaign in 42 seasons at RCHP.
The Tournament Field
Youngstown State (0-7)
The Penguins were picked to finish sixth in the Horizon League this season. Six of the team's top seven hitters return, including senior first baseman Jeremy Banks, who leads YSU with a .464 batting average (13-of-28) and 8 RBI after the season's first two weeks.
The Penguins defense has been a point of concern with 16 errors in 7 games (.937 fielding percentage) • YSU's seven losses have come to six different opponents this season • Sophomore Patrick O'Brien, the scheduled starter against APSU, allowed 6 runs over 3 innings in a loss to Canisius, Sunday.
Iowa (1-5)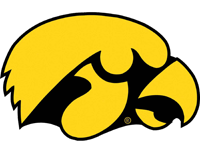 The Hawkeyes were not picked to finish among the Big 10's top six teams in the league's preseason poll • Senior second baseman Matt McQuillan and starting pitchers Jared Hippen (Sr.) and Matt Dermody (Jr.) were named to the league's preseason watch list.
Senior third baseman Chett Zeise leads Iowa with a .409 batting average (9-of-22) • Senior outfielder Sean Flanagan has only 4 hits (.250 batting average) but has 3 extra-base hits and a team-best 5 RBI • Senior releiver Tim Fangman has three of Iowa's six decisions this season, entering the weekend with a 1-2 record and 1.42 ERA • The Hawkeyes won their season opener, 7-5, against Pittsburgh but have lost five straight since • Dermody, the projected starter against APSU, allowed 7 runs in 3.1 innings in Iowa's 12-3 loss to George Mason, February 25th.
Akron (0-6)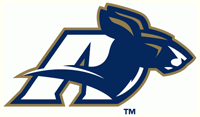 The Zips were tapped to finish fifth in the Mid-American Conference's East Division • Akron has gotten off to a slow start in the season's first six games, with the offense posting a .179 batting average while the pitching staff has surrendered an 8.82 ERA • Sophomore second baseman Tyler Begun leads the team with a .286 batting average (6-of-21).
Three batters have two RBI each to lead the team • Each of the Zips three starters have posted 0-2 starts to the campaign • Freshman southpaw Pat Dyer, Sunday's starter against APSU, is schedule to make his season's first start.
Probable Starting Pitchers

Date

Time

Austin Peay Starter

Opponent's Starter

APSU Radio/Internet

Friday
2:30pm.
RHP Ryan Quick
RHP Patrick O'Brien
None
vs. Youngstown State
(RSo., 0-0, 3.00 ERA)
(RSo., 0-1, 10-80 ERA)
Saturday
2:30pm.
LHP Zach Toney
LHP Matt Dermody
None
vs. Iowa
(Sr., 1-1, 4.91 ERA)
(Jr., 0-1, 9.00 ERA)
Sunday
2:30pm.
RHP Casey Delgado
LHP Pat Dyer
None
vs. Akron
(Jr., 1-1, 11.25 ERA)
(Fr., 0-0, 10.80 ERA)