Clarksville, TN – A man who has been on the run, with warrants on file from Clarksville Tennessee and Hopkinsville Kentucky was taken into custody after committing an Aggravated Robbery this afternoon at a Clarksville apartment.
Justin Ladarious Horstead had warrants of file from Clarksville for Criminal Court Capias for Robbery, Violation of community Corrections, and a Hopkinsville warrant for Robbery 1st Degree. Another Aggravated Robbery charge was added to the list this afternoon.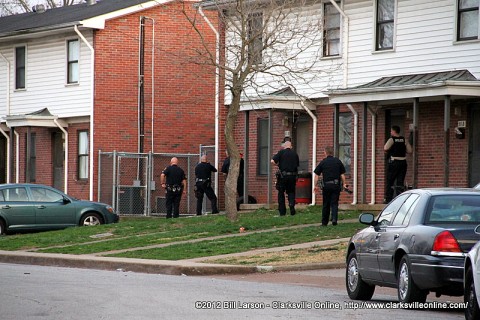 Around 12:40pm, Clarksville Police were called to 119 Hickory Trace in reference to a Aggravated Robbery. A male, later identified as Horstead, entered an apartment uninvited, pointed a handgun at a 54 year old man's head and demanded money. Once he received the money, he fled from the residence on foot.
Police were unable to locate Horstead in the area. Later in the day, Police received information that Horstead may be at a residence at 52 Ladd Street. Around 4:50pm, Police attempted to make contact with Horstead at the residence, but no one answered the door.
Patrol officers surrounded the house and the Tactical Unit and Crisis Negotiators were called to the scene. Police were able to convince Horstead to come out of the residence and he was taken in custody without incident, around 7:00pm.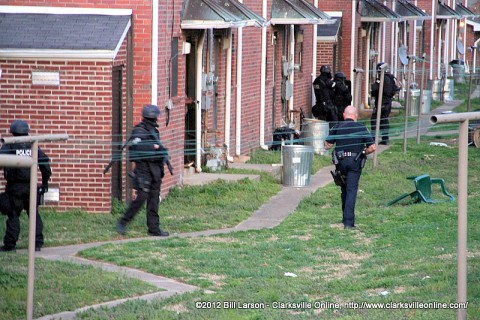 He is being held without Bond on the Capias and Violation of Community Corrections, and has a $25,000 Bond for the Aggravated Robbery.
Horstead was the last suspect Police were looking for in conjunction with the Hopkinsville Robbery and an incident where an Oak Grove Police Officer was shot at.
For more on the story, see:
Justin Horstead
Name: Justin Ladarious Horstead (B/M)
DOB: 11/21/81
Given Address:  354 Ryder Street, Apartment A, Clarksville, TN
Arresting Officer: Matthew Ferrell
Charged With: Criminal Court Capias for Robbery, Violation of Community Corrections, and Aggravated Robbery
Booked Into: Montgomery County Jail
Bond: $275,000
He will be also held for the Hopkinsville Police Department in Kentucky on the Robbery 1st Degree warrant.
Photo Gallery