Clarksville, TN – On March 15th, 2012, around 1:30am, Clarksville Police Officers patrolling and performing checks of storage units on Tiny Town Road, due to previous burglaries, caught a man in the act of breaking in to several units.
Officer Alan Pendarvis was checking the storage units at 416 Tiny Town Road when he spotted several guns laying on the side of the driveway. He called for back-up officers to the area.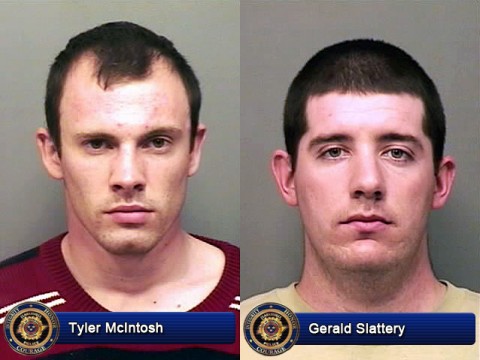 Officer John Matos found a man, identified as Tyler Allen McIntosh, sitting inside one of the storage units. A check of the other storage units revealed several storage units had been entered and items had been removed from some them.
Detectives Dave Keenom, Andy Hurst, and Brian Tenry worked conjunctively on the burglaries which also lead them to the discovery of five previously stolen motorcycles, stolen trailer, and development of another suspect, Gerald Philip Slattery.
Slattery was found in the area of the storage sheds driving around in a vehicle registered to McIntosh, and apparently looking for McIntosh. After making contact with Slattery, Detectives went back to Slattery's residence where the stolen motorcycles and trailer were found.
Both men were taken into custody on March 15th.
The investigation is ongoing and more charges are possible.
Tyler McIntosh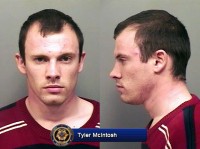 Name: Tyler Allen McIntosh (W/M)
DOB: 8/26/88
Given Address: 2404 Polly Drive, Clarksville, TN
Charged With: 5 Counts of Burglary and 5 Counts of Theft
Booked Into: Montgomery County Jail
Bond: $195,000.
He is still being held in Montgomery County Jail
Gerald Slattery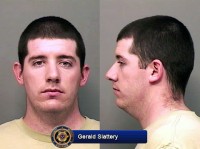 Name: Gerald Philip Slattery (W/M)
DOB: 11/19/88
Given Address: 3426 Polley Drive, Clarksville, TN
Charged With: Three Counts of Theft
Booked Into: Montgomery County Jail
Bond: $30,000.
He made Bond the same day.