Topic: Brian Tenry

Clarksville TN –  Today, December 28th, 2015 at 3:20pm, the Clarksville Police Department reports a large tree suddenly fell completely across Madison Street (US 41A) near the Chick-Fil-A Restaurant near Crossland Avenue. One Westbound vehicle and two Eastbound vehicles were struck by the tree.
Investigating CPD Officer Brian Tenry said, "A Ford Fusion had to be towed from the scene and the driver was transported by ambulance to Gateway Medical Center with minor injuries."
«Read the rest of this article»

Clarksville, TN – On Wednesday April 29th, 2015 at 1:00pm, the Clarksville Police Department hosted an Improvised Alcohol Awareness Class for the Junior and Senior classes from Clarksville Academy at their outdoor Sports Complex off of Hwy 48-13.
The purposes of the class was to educate teens on the dangers of impaired driving, educate on DUI laws, and to influence a reduction in the underage consumption of alcohol.
«Read the rest of this article»

Clarksville, TN – On December 3rd, 2012, around 1:20am, Clarksville Police were called to a Mark Spitz address about a robbery which occurred in the parking lot of a business at the 1600 block of Fort Campbell Boulevard around 1:00am.
An 18 year man told officers he was driven by his friend Marques Townsend to the business' parking lot, where subsequently, a male wearing a bandanna and black jacket held a gun to the 18 year olds head and demanded his money and cell phone.
«Read the rest of this article»

Clarksville, TN – On October 2nd, 2012, around 9:15pm, Clarksville Police Officers were called to a McClardy Drive residence for a burglary in progress.
An 18 year old female arrived home and saw a bluish green car by her mailbox with a man standing outside of the vehicle smoking a cigarette. As she pulled into her driveway, she could see all the lights on in the house and the back and garage doors were open. She also could see two men inside of residence.
«Read the rest of this article»
Man is on Community Corrections until 2033 for Residential Burglary and Theft

Clarksville, TN – On August 28th, 2012, around 10:30am, Clarksville Police were called to 2452 Peachers Mill when a man was detained after breaking into a residence.
Gatt Ware, 40, saw a man sitting on his neighbor's front porch drinking a soda. He did not recognize the man as someone that lived at the residence.
Shortly after that, he saw the man inside of the residence. He also noticed the back window of his neighbor's house was raised and the screen was damaged laying on the ground. He then saw a man exiting out the back door of the residence with socks on his hands carrying some sort of audio/video cord.
«Read the rest of this article»

Clarksville, TN – On March 15th, 2012, around 1:30am, Clarksville Police Officers patrolling and performing checks of storage units on Tiny Town Road, due to previous burglaries, caught a man in the act of breaking in to several units.
Officer Alan Pendarvis was checking the storage units at 416 Tiny Town Road when he spotted several guns laying on the side of the driveway. He called for back-up officers to the area.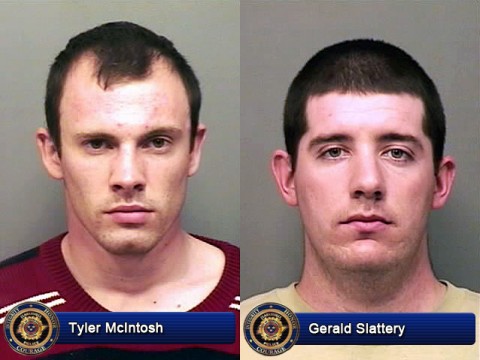 «Read the rest of this article»

Clarksville, TN – On October 17th, 2011, around 1:00pm, an investigation into a male fleeing on foot from a routine traffic stop led officers to a marijuana grow in a trailer.
After the man bailed out of a vehicle from an attempted traffic stop, Officers Todd Bell, Ronnie Brown, Peter Millan, Sgt. Joe Difiore, and Detective Brian Tenry attempted to locate the man that fled on foot from the traffic stop.
«Read the rest of this article»