Clarksville, TN – On Wednesday April 29th, 2015 at 1:00pm, the Clarksville Police Department hosted an Improvised Alcohol Awareness Class for the Junior and Senior classes from Clarksville Academy at their outdoor Sports Complex off of Hwy 48-13.
The purposes of the class was to educate teens on the dangers of impaired driving, educate on DUI laws, and to influence a reduction in the underage consumption of alcohol.
This event took place just before the Junior/Senior Prom.
With the timing of this class, we hope that we have assisted these students in making the right decisions so they can be safe and have fun at outings like the Prom or other future events they attend with their friends.
Class Agenda
1:00pm: Group Meeting
The students met as a group in the bleachers at one of the sports facility's fields. The speakers were Chief Al Ansley, Lt Phil Ashby (Traffic Unit Supervisor and Supervisor over weekend DUI Check Points), Sgt Johnny Ransdell, and Traffic Investigator Melissa Spielhagen.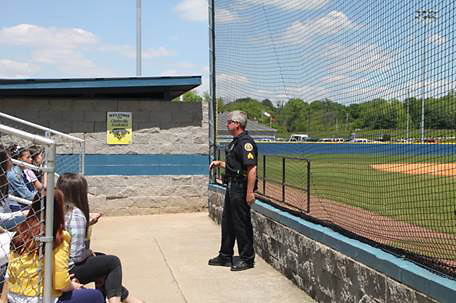 1:30pm- 3:00pm: Hands-on Activities
Station 1– The students were able to view a reconstructed traffic crash scene that involved a DUI driver. MAXX'D Out Towing brought out the vehicles that were involved in this crash and put them together like they were positioned when the CPD Officers arrived on the scene. Inv Spielhagen told the students about the crash and gave more details about the consequences individuals deal with when they are driving under the influence of alcohol or drugs.
Station 2– The students participated in wearing drunk goggles while taking Sobriety tests administered by our CPD Traffic Officers and Supervisors. Drunk goggles use special lens technology that allows the wearer to experience a realistic simulation of impairment.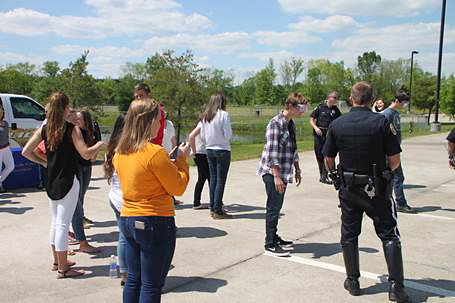 Station 3– The students drove golf carts while texting and wearing drunk goggles.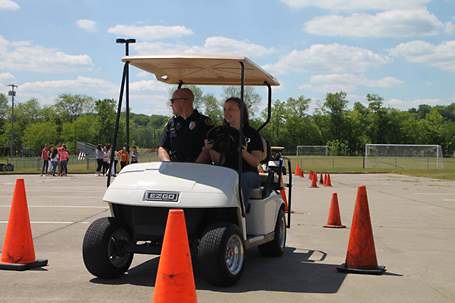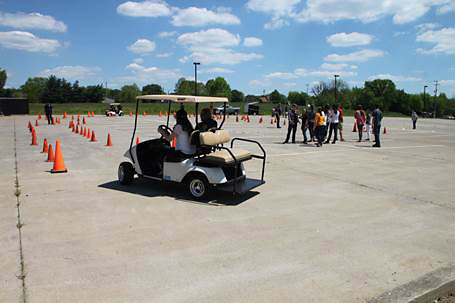 Station 4– Fort Campbell 716th MP Unit SIDNE Staffing: SIDNE stands for Simulated Impaired DriviNg Experience. Fort Campbell personnel assisted the CPD with their battery-powered vehicle that simulates the effects of impairment from alcohol or other drugs on a motorist's driving skills.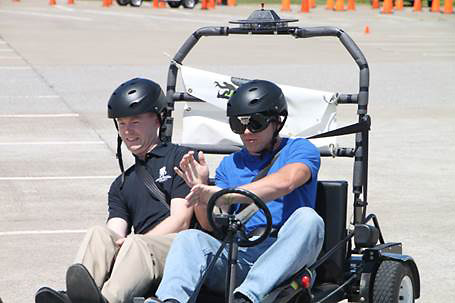 The event was a huge success with over 60 students from Clarksville Academy's Junior and Senior classes. Our goal is to continue our efforts in spreading alcohol awareness to all our Clarksville teens. Special thanks to the members of the Clarksville Police Academy Alumni (CPAA), Wyatt Johnson GMC, MAXX'd Out Collision and Towing, the Governor's Highway Safety Office (GHSO), and the Fort Campbell 163rd Military Police Traffic Investigations Unit.
We could not have had this event without the support of the above-mentioned agencies and organizations.
CPD Officers and Staff in Attendance
Chief Ansley, Lt Ashby, Misty Mackens, Sgt Bret Norfleet, Sgt Johnny Ransdell, Inv Melissa Spielhagen, Inv Bill VanBeber, and Officers Bobby Hill, William King, Zachary Baggett, James Atkins, Harry  Hampton, Jennifer Szczerbiak, Tom Johnson, and Brian Tenry.
Assisting me (Natalie Hall) with photos and video footage was Lt Steve Warren.