Man is on Community Corrections until 2033 for Residential Burglary and Theft

Clarksville, TN – On August 28th, 2012, around 10:30am, Clarksville Police were called to 2452 Peachers Mill when a man was detained after breaking into a residence.
Gatt Ware, 40, saw a man sitting on his neighbor's front porch drinking a soda. He did not recognize the man as someone that lived at the residence.
Shortly after that, he saw the man inside of the residence. He also noticed the back window of his neighbor's house was raised and the screen was damaged laying on the ground. He then saw a man exiting out the back door of the residence with socks on his hands carrying some sort of audio/video cord.
He confronted the man as he exited the house in an effort to detain him for Police, but the man took off running and jumped the fence. Police converged on the area to locate the man and it turned into a game of hide and seek.
Police would spot the man, he would run, duck down temporarily, and take off running again. He was caught by Officer Mike Dillon in the area of Bonnie Court.
The man identified as Delandre Jordan had property taken from inside of the residence in his possession.
Delandre LeBarron Jordan has a history of Aggravated Burglary and is currently on Community Corrections for Aggravated Burglary and Theft until 2033.
Delandre Jordan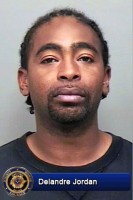 Name: Delandre LeBarron Jordan (B/M)
DOB: 12/17/79
Given Address: 3538 Sandpiper Drive, Clarksville, TN
Arresting Officer: Brian Tenry
Charged With: Aggravated Burglary and Evading
Booked Into: Montgomery County Jail
Bond: $26,000.