Austin Peay State University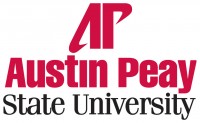 Clarksville, TN – In March of 2011, an obituary appeared in the New York Times announcing the death of the great American composer Lee Hoiby at the age of 85.
The article championed his career, mentioning such notable works as his 1964 opera "Natalia Petrovna," but for those who knew Hoiby, his death left something unfinished – an unperformed flute concerto he wrote 17 years earlier.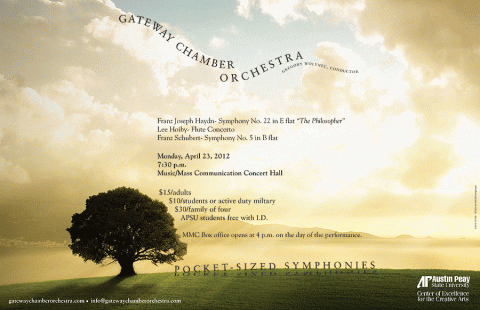 "He had given me a copy of the flute concerto, but there wasn't a vehicle to do it with," Dr. Gregory Wolynec, Austin Peay State University associate professor of music, said. "I told him we'd very much like to do this. And he said, 'you know it's waiting for its premiere.'"
At 7:30pm on Monday, April 23rd, APSU's Grammy-nominated Gateway Chamber Orchestra, conducted by Wolynec, will fulfill the late composers' wish by hosting the world premiere of his "Concerto for Flute and Orchestra" as part of its Pocket-sized Symphonies concert in the Music/Mass Communication Building's Concert Hall. Music websites and blogs around the country are promoting the upcoming local concert, which includes Hoiby's 18-minute work featuring flute soloist and APSU faculty member Lisa Vanarsdel.
"It's very beautiful," Wolynec said. "The first movement is very energetic, with virtuosic, lovely writing. The second movement alternates between moderately slow, not terribly slow, with a little more of a dancelike feel. It has really lovely harmonies."
In 2007, Hoiby spent two weeks in Clarksville as the holder of the APSU Roy Acuff Chair of Excellence, and during his residency, he formed a deep bond with the APSU Department of Music. The APSU Wind Ensemble premiered a new work by Hoiby, "American Parade," during the composer's residency, and the University also commissioned Hoiby to write a triple concerto, which the APSU Wind Ensemble premiered in 2010 at the College Band Directors National Association's Southern Division Conference at the University of Mississippi.
"He was a good friend of the department," Dr. Jeffrey Wood, professor of music at APSU, said shortly after Hoiby's death. "We've had an extensive connection and relationship with him since his residency."
But presenting a previously unperformed piece poses a unique challenge to the orchestra. Wolynec and his musicians have little background from which to draw assistance.
"It's a piece that doesn't have a performance history," he said. "It's not like we can go and listen to old recordings. It's all a brand new sound. What we do have to draw from is that we worked with Lee on his music."
The world-premiere of the Hoiby work is only a portion of the program for the orchestra's final concert of the 2011-2012 season. The concert follows the orchestra's famed "three-legged stool" approach to programming, with a known masterwork, a masterwork or composer often overlooked by history and a piece by an American composer.
The evening will begin with a performance of Franz Joseph Haydn's underperformed "Symphony No. 22 in E flat," also known as the "The Philosopher."
"Haydn wrote 104 symphonies, and the last six are performed regularly by leading orchestras around the world," Wolynec said. "Unfortunately, that misses out on 98 other fantastic ones. The 22nd has a really unusual collection of instruments…it's just dazzling."
That piece will be followed by the premiere of the Hoiby work, satisfying the American composer element of the evening. And the concert will conclude with a performance of Franz Shubert's masterwork "Symphony No. 5 in B flat."
"Shubert is a name well known in the classical music world," Wolynec said. "He is one of the long line of Viennese classicists, including Haydn, Mozart and Beethoven. The Fifth Symphony sounds like it's influenced by Mozart. It's light, airy, very approachable, with beautiful melodies. It's full of elegance and grace."
The orchestra's second CD, "Chamber Symphonies," which won't officially be released until May, will be on sale at this concert. This follow-up album to the Orchestra's Grammy-nominated "Wind Serenades" CD is already garnering critical acclaim, with the national trade publication Allegro Classical issuing a "Buzz Alert" notice on it in the magazine's most recent issue.
Tickets to the April 23rd Pocket-sized Symphonies concert are $15.00 for adults, $10.00 for students and military, $30.00 for a family of four and free to APSU students with a valid student I.D. Tickets are available at the MMC Box Office, which opens at 4:00pm on the day of the show.
For more information about this concert, visit www.gatewaychamberorchestra.com or email info@gatewaychamberorchestra.com.