Nashville, TN – When winter has worn out its welcome, brighten your brunch menu with a touch of citrus.
Freshen up pancakes with ricotta cheese and grated lemon peel and try Lemon Ricotta Brunch Cakes, which are reminiscent of a crepe or a blintz. The simple addition of lemon makes it taste like a Spring treat.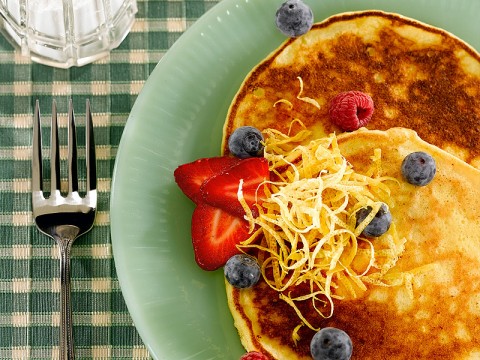 "If you're getting anxious for Spring and looking for a great brunch recipe, these cakes are perfect," says the Martha White® baking expert Linda Carman. "Served with fresh fruit or a fruit sauce instead of syrup, it's almost like eating a spoonful of soufflé off the griddle."
For more recipes and tips, visit www.marthawhite.com and click on "recipes" and "cook's corner."
Join the Martha White community at www.Facebook.com/MarthaWhiteBaking.
Lemon Ricotta Brunch Cakes
6 large eggs, separated
1 1/2 cup ricotta cheese
1/2 cup butter, melted and cooled
1/2 cup Martha White® All-Purpose Flour
1/4 cup sugar
1/2 teaspoon salt
2 tablespoons grated lemon peel
Crisco® Original No-Stick Cooking Spray
Powdered sugar
Grated lemon peel
2 cups fresh berries
Directions
1. MIX egg yolks, cheese and butter in large bowl. Whisk together flour, sugar, salt, peel and juice in small bowl. Whisk flour mixture slowly into egg yolk mixture.
2. BEAT egg whites in large bowl with electric mixer at medium high speed until soft peaks form. Gently fold eggs whites into batter.
3. SPRAY griddle or skillet with no-stick cooking spray. Heat to medium. Pour about 1/4 cup batter onto griddle. Spread gently to about 5 inches. Cook for 3 to 4 minutes or until edges begin to look dry. Turn and cook on other side until brown. Serve with a sprinkling of powdered sugar, lemon peel and berries.
Makes 12 brunch cakes
---
Crisco is a registered trademark of The J.M. Smucker Company.