Topic: Pancakes
Nashville, TN – A big stack of warm buttery pancakes is always a treat and fun to make. "But these pancakes are so simple the kids can help you make them before they go to school," says Linda Carman, the Martha White® baking expert.
"The trick is to use a convenient fruit muffin mix. All you have to do is add egg and milk and the kids will love choosing their favorite flavors." Eat them plain, topped with butter and syrup, or folded and filled with yogurt and fruit.
For more quick and easy recipes, go to www.marthawhite.com.
«Read the rest of this article»
Martha White® Holiday Muffin Mix Challenge™ now accepting original recipes for the Crowd Pleasers and Simply 6 Categories
Nashville, TN – There's nothing like creative time spent in the kitchen—the experimenting, the tasting, the aroma and the family memories. Creating in the kitchen is especially rewarding during the holidays, whether for a family breakfast, dinner, or party.
«Read the rest of this article»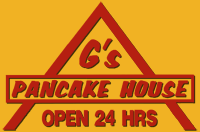 Clarksville, TN – On October 20th, 2012 at G's Pancake House Restaurant 803 South Riverside Drive Clarksville, TN from 2:00pm to 4:00pm the community along with several civic organizations, fraternities, sororities, churches, and elected officials will partner to help raise funds for the Humane Society of Clarksville-Montgomery County. «Read the rest of this article»
Nashville, TN – Isn't it amazing how wise our grandmothers were? Old adages like "the kitchen is the heart of the home" and "family is made around the dinner table" continue to be as valid for us today as they were to past generations.
Research has shown that children of all ages are happier and healthier if they regularly eat dinner as a family. And involving them in the cooking not only provides valuable family time, but also encourages better eating habits.
«Read the rest of this article»

Clarksville, TN – The Citizens Police Academy Alumni will host a Pancake Breakfast at Applebee's on Wilma Rudolph Boulevard. on July 28th from 7:30am to 9:30am. Tickets are $5.00 for pancakes, sausage, and drink.
Please come out and help us raise money for the New Bicycle Patrol, that allows Officers to patrol on a more intimate level.
For information or tickets, call Kaye Jones at 931.320.5762.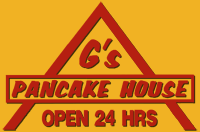 Clarksville, TN – In the year 2011 G's Pancake House Restaurant held two charity events to help local organizations like Big Brothers Big Sisters of Clarksville Tennessee rise funds to help keep their organization doors open.
Already famous for their pancakes, G's held a pancake eating contest titled the Triple Nickel Pancake Challenge Throwdown. Each contestant had to eat five 16 inch massive pancakes, five strips of bacon and five scrambled eggs totaling 10 lbs. The goal was to be first one to finish or the last one with the least amount left on their plate in just one hour.
«Read the rest of this article»
Nashville, TN – When winter has worn out its welcome, brighten your brunch menu with a touch of citrus.
Freshen up pancakes with ricotta cheese and grated lemon peel and try Lemon Ricotta Brunch Cakes, which are reminiscent of a crepe or a blintz. The simple addition of lemon makes it taste like a Spring treat.
«Read the rest of this article»
Nashville, TN – A big bowl of hearty soup for supper is a comforting and satisfying way to end the day. But to complete the meal, nothing goes with soup better than cornbread. You almost can't go wrong with your favorite cornbread – a cast iron skillet full of hot cornbread, tender corn muffins or crispy corn sticks.
"However, sometimes we forget that you don't even have to heat up the oven to have delicious corn bread," observed the Martha White® baking expert Linda Carman. "Corn cakes are quick and easy to make. All you have to do is stir up the batter and bake on a griddle or in a skillet like pancakes."
«Read the rest of this article»
Nashville, TN – Big, beautiful bunches of perfectly ripe bananas are almost irresistible. Available year-round, you can always count on bananas to be there for you – to slice over cereal, for snacks, fruit salads and an amazing variety of recipes, from main dishes to delectable desserts. This tropical fruit is one of the most popular fruits in the United States, but was virtually unknown in this country until the 1800s.
Over the years, a remarkable assortment of banana recipes have been created like banana pudding, banana cream pie and the revered, but unassuming, banana bread. In fact, the addition of bananas to bread and cake recipes is almost magic, contributing a creamy sweet flavor and moist delicious texture.
«Read the rest of this article»
Nashville, TN – Ease the kids into the back-to-school routine with some easy breakfast treats. Breakfast doesn't have to be a big, complicated production. The most important part is to plan a few easy breakfast menus and stock up on the things you need.
It is always handy to keep several different flavors of muffin mix on hand. You can have warm muffins out of the oven in less than 20 minutes or use the muffin mix as a shortcut for delicious pancakes, waffles and other breakfast goodies. «Read the rest of this article»