Nashville, TN – A big stack of warm buttery pancakes is always a treat and fun to make. "But these pancakes are so simple the kids can help you make them before they go to school," says Linda Carman, the Martha White® baking expert.
"The trick is to use a convenient fruit muffin mix. All you have to do is add egg and milk and the kids will love choosing their favorite flavors." Eat them plain, topped with butter and syrup, or folded and filled with yogurt and fruit.
For more quick and easy recipes, go to www.marthawhite.com.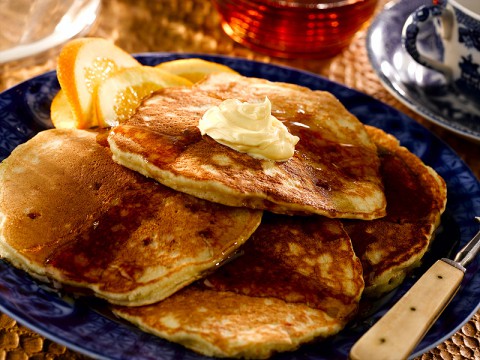 Fruit Muffin Mix Pancakes
Ingredients
1 egg
3/4 cup milk
1 (7 oz.) pkg. Martha White® Fruit Muffin Mix (any flavor)
Directions
1. Heat griddle or large skillet to medium heat (350° F.). Grease lightly with oil. In medium bowl, beat egg. Add egg and muffin mix; stir just until large lumps disappear. For thinner pancakes, add additional milk. Batter will be slightly lumpy.
2. For each pancake, pour about 1/4 cup batter into hot griddle. Cook 1 to 2 minutes or until bubbles begin to break on surface. Turn; cook 1 to 2 minutes or until golden brown.
8 pancakes