Nashville, TN – Big, beautiful bunches of perfectly ripe bananas are almost irresistible. Available year-round, you can always count on bananas to be there for you – to slice over cereal, for snacks, fruit salads and an amazing variety of recipes, from main dishes to delectable desserts. This tropical fruit is one of the most popular fruits in the United States, but was virtually unknown in this country until the 1800s.
Over the years, a remarkable assortment of banana recipes have been created like banana pudding, banana cream pie and the revered, but unassuming, banana bread. In fact, the addition of bananas to bread and cake recipes is almost magic, contributing a creamy sweet flavor and moist delicious texture.
"Because they are plentiful and reasonably priced, it's not surprising that we often end up with a generous banana supply on hand," said Martha White® baking expert Linda Carman. "But even when they've passed their prime, they should never go to waste. Bananas that are a too ripe to eat, are just right for baking."
Banana Baking Tips
As bananas ripen, the starch in the fruit turns to sugar, so ripe, brown speckled bananas are best for baking.
For easy mashing, place a peeled banana on a plate. Working from one end, mash with a fork. Or if you prefer, use a food processor or blender.
Recipes usually call for 2 to 3 bananas to make 1 cup of mashed banana. It depends on the size of the bananas, but this is a good rule of thumb to follow.
If you have too many bananas on hand, they may be frozen whole, cut in chunks or mashed for later use. If frozen in the skin, they will turn dark, but the fruit is still good for baking.
Banana Breads
Brunch is a great way to entertain, especially in the spring when the weather is warm enough to sit on the porch or patio. Whether you have a large crowd or just a couple of friends, a brunch always seems to create a casual atmosphere that everyone enjoys. Banana breads provide just the right touch to your next mid-morning gathering.
Take pancakes to a new level with Banana Soufflé Pancakes. The ingredients are similar to regular pancakes; except the souffled version has more eggs and the whites are beaten separately and folded into the batter. Because there is a good bit of flour in the batter, the pancake rises beautifully and does not deflate after removing from the oven. Perfect for a small brunch, simply top pancakes with sifted powdered sugar. Or, if you prefer, serve with sliced bananas, berries, whipped cream or maple syrup.
Coffee cake is another brunch favorite. To make Sour Cream Banana Coffee Cake, get a head start with a Martha White Cinnamon Streusel Coffee Cake Mix. The addition of sour cream and mashed bananas to the batter adds a sweet rich flavor to the cake. The streusel is enhanced with chocolate chips and walnuts, creating a star recipe for your next brunch or for a family weekend breakfast treat.
Martha White Banana Nut Flavored Muffin Mix is another shortcut to fabulous banana brunch breads. For a new spin on the ever-popular blueberry muffin, add fresh or frozen blueberries to the banana nut muffin mix. With or without the brown sugar topping, these muffins are sure to become a family favorite.
Banana Souffle Pancake
6 tablespoons butter, melted
4 large eggs, separated
2/3 cup milk
1 1/4 teaspoons vanilla extract
1 teaspoon salt
2/3 cup Martha White® All-Purpose Flour
2/3 cup mashed ripe bananas
1/4 cup sugar
1/2 cup pecan halves, toasted
Powdered sugar, banana slices, berries, whipped cream and/or syrup
Directions
1. Heat oven to 375°F. Place 3 tablespoons melted butter in a 10-inch cast iron or other oven-safe skillet. Tilt pan to coat bottom. Whisk egg yolks, milk, 3 tablespoons butter, vanilla and salt in large bowl. Gradually whisk in flour. Stir in bananas.
2. Beat egg whites in large bowl with electric mixer at high speed, until frothy. Gradually add sugar. Beat until stiff peaks form. Fold one-third egg whites into batter. Fold in remaining egg whites.
3. Pour batter into prepared pan. Sprinkle with pecans. Bake 25 to 30 minutes or until puffed and golden brown. Top with powdered sugar, banana slices, berries, whipped cream and/or maple syrup.
Makes 6 servings
Sour Cream Banana Coffee Cake
Crisco® Original No-Stick Cooking Spray
1 (21 oz.) box Martha White® Cinnamon Streusel Coffee Cake Mix
1 cup chopped walnuts
1/2 cup mini chocolate chips
2 large eggs, beaten
1/3 cup milk
1/2 cup sour cream
2 tablespoons butter, melted
1 teaspoon vanilla extract
1 cup ripe mashed bananas
Directions
1. Heat oven to 350°F. Lightly coat 9-inch springform pan with no-stick cooking spray. Stir together streusel, walnuts and chocolate chips.
2. Stir together coffee cake mix, eggs, milk, sour cream, butter, vanilla and bananas. Pour half the batter into prepared pan. Sprinkle with half the streusel. Top with remaining batter. Top with remaining streusel.
3. Bake 30 to 35 minutes or until a toothpick inserted comes out clean.
Makes 12 servings
Blueberry Banana Nut Muffins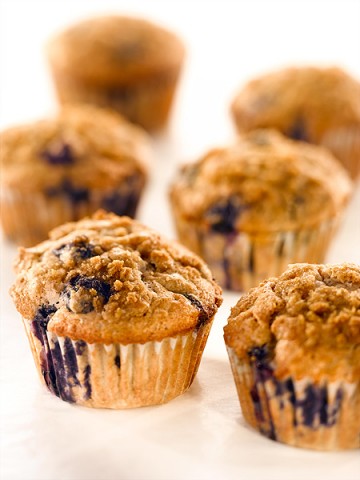 Crisco® Original No-Stick Cooking Spray
Brown Sugar Topping
1/4 cup firmly packed brown sugar
2 tablespoons Martha White® All-Purpose Flour
1 tablespoon butter
Muffins
2 (7.6 oz.) pkgs. Martha White Banana Nut Flavored Muffin Mix
1 cup milk
1 cup fresh or frozen blueberries
Directions
1. Heat oven to 425ºF. Lightly spray 12 medium muffin cups with no-stick cooking spray or line with paper baking cups.
2. Mix together brown sugar and flour in small bowl. Cut in butter with pastry blender or fork until crumbly. Set aside.
3. Combine muffin mix and milk in medium bowl. Stir just until moistened. Gently fold in blueberries. Fill muffin cups about 2/3 full. Sprinkle with topping.
4. Bake 14 to 17 minutes or until golden brown and toothpick inserted in center come out clean. Cool 2 to 3 minutes in pan.
Makes 12 muffins
Crisco is a trademark of The J.M. Smucker Company.